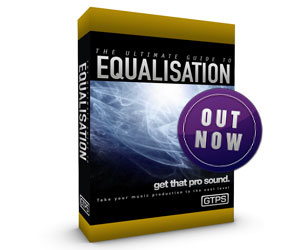 The equaliser is one of the longest-serving and most fundamental sound processing tools. As soon as it became possible to record and transmit audio electrically, and then electronically, engineers and music-makers also began developing various ways of sculpting the sound by boosting or cutting specific parts of the frequency spectrum independently from the rest of the signal.
Nowadays, we all have pretty amazing EQ functionality by default built into our DAWs. These clean, 'digital'-style EQs offer the sort of flexibility, accuracy and, usually, a transparency that engineers in the 1950s could only dream of, working as they were with imperfect analogue components. However, when it comes to pure sonic character and musicality, analogue and analogue-modelling EQ is still hard to beat.
Our selection here aims to highlight options for every EQ situation: For example, are you looking for a processor for sweetening and bringing out or adding character to instruments; are you looking to gently tame parts or mixes with broad and smooth cuts and boosts, or are you after the audio equivalent of a surgeons scalpel for highly focused, precision adjustments?
One of the key things that differentiates EQ plugins from each other is how well they process boosts at particular frequency ranges: for example, applying a significant boost to the high end will produce more or less 'smooth' or 'gritty' results depending on the EQ used.
There's also the factor common to all aspects of modern/digital music production: sometimes, 
too much flexibility can be a hindrance rather than a help
. If you've read any of the other posts on GTPS, especially
The 10 Principles Every Producer Must Know…
, you'll probably have gathered that I'm a proponent of keeping things simple: having a slightly wider range of tools at my disposal that are each designed to do a more specific job extremely well I find generally preferable to tools that try to cover a lot of bases. Of course, this is arguable: it totally depends how you approach your productions.
One last thing, and some producers might disagree with me here and say that the sound is the only important thing, but don't underestimate the importance of an attractive and intuitive interface. Do you want to see your adjustments graphically displayed with a spectrum analyser, or do you prefer simple knobs and dials that keep you focused on the sound only? How many controls do you want to have access to at any moment, and in which ways do you want to be able to adjust them? Anything which has a bearing on how you experience the process of listening, making decisions and making adjustments based on those decisions is a factor worth considering.
Apart from these factors, all of the considerations I mentioned in The 10 Best Compressor Plugins and The 10 Best Reverb Plugins lists also apply to choosing EQ:
No single EQ plugin is the best for every application. Each EQ will produce subjectively better or worse results on different source material: some EQs are renowned for making smooth high-end boosts, others for taming low and sub frequencies, and others might be go-tos for vocal or drum processing.
The best EQ plugin is always the one that best suites the specific task you're undertaking and gives you the sound you want with the greatest ease and efficiency. Take this list as a starting point or further hints towards finding and refining your own collection of favourites. Download some of the demos (or full versions, in the case of the freeware choices) and get building a small and refined selection of EQ tools to cover every eventuality with optimum working speed and results.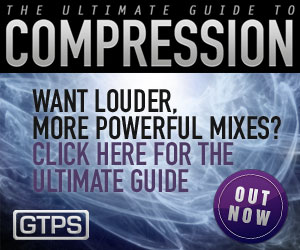 Classic EQ: A Quick Salute To The Hardware
It can really help when learning about EQ to be aware of some of the classic hardware EQ units and console EQ sections that many plugins are modelled on to varying degrees. Here's a very quick primer on classic EQ.
Pultec EQ
Perhaps the most iconic hardware EQ, the Pultec EQP-1 was first introduced in 1951 and became their flagship product for the next thirty years. The full company name was actually Pulse Techniques Inc., and the founding two-man team Ollie Summerland and Gene Shank made every item to order, all by hand. All of the Pultec range are renowned for their great sound and having been built like tanks, which partly explains why they are still around in top studios around the world today. Interestingly, Summerland and Shank were based in Teaneck, New Jersey, the same town where Les Paul built his first 'home studio', which incorporated the very first eight-track recorder.
Classic Console EQ And 'British EQ'
Some of the best EQ plugins are modelled not after standalone outboard units, but the EQ sections of classic mixing consoles. In particular, the term 'British EQ' became something of a selling point over the years since the 1950's, and essentially refers to the quality and sound of the equaliser sections found in many classic British-made mixing consoles by the likes of Neve, AMEK, and Soundcraft. These EQs had a colour to them that was quite particular and they were used on many of the best and most famous records, and became much sought-after: this is why so many EQ plugins are based on their designs.
30 Great EQs – The List
As ever, the list is not in rank order and features some top choices for any budget, from free and donation-only plugins to top-end hardware-replacing picks.
And for a complete guide to getting the most out of EQ in your music, don't forget to check out the new Ultimate Guide on the subject, right here!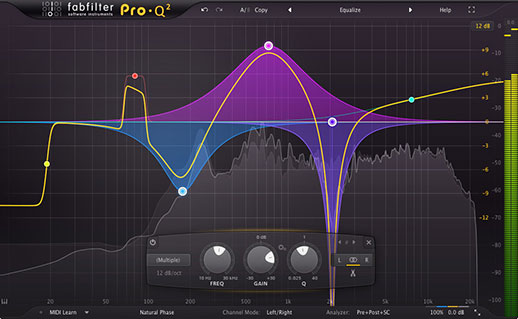 1. Fabfilter Pro-Q 2
We previously featured the original Pro-Q in this spot, and with the new version, Pro-Q 2, things only get better. It still combines a fast and intuitive GUI (now with Full Screen mode for precision EQ adjustments), massive flexibility if desired (24-band EQ, anyone?) and awesome transparent sound (now with the new Natural Phase mode for even more accurate analogue-style performance). The face of EQ in 2014: check it out.
Available for Mac (32/64-bit, all formats) and PC (32-bit VST, VST3, AAX and RTAS; 64-bit VST and VST3).
BUY NOW
 via 
PluginBoutique
.
---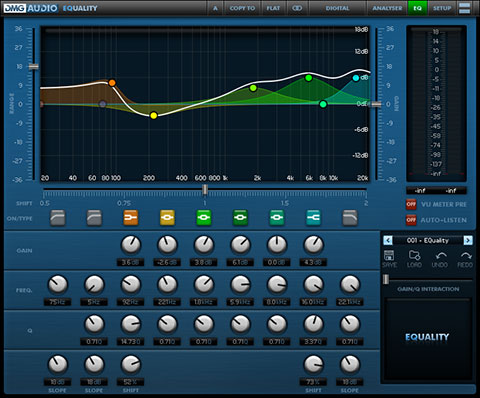 2. DMG Audio EQuality
Another 21st-century-style favourite.
Available for Mac and PC, in VST, AU and RTAS formats. Official site here.
---

3. Waves PuigTec EQP-1A
A favourite emulation of the classic Pultec EQ we mentioned earlier. So many companies have done their own Pultec emulations, you could write a whole separate list. Other totally worthy mentions are the Nomad Factory Pulse-Tec EQ set, the EQP-1A that comes as part of the IK Multimedia T-rackS bundles, and not forgetting the free Leftover Lasagne Pushtec 5+1A.
Available for Mac and PC, in VST, AU, RTAS and TDM formats.
BUY NOW
 via 
Waves
.
---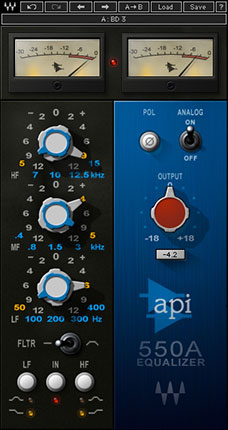 4. Waves API 550A EQ
Another great emulation, this one is part of the Waves API Collection bundle.
Available for Mac and PC, in VST, AU, RTAS and TDM formats.
BUY NOW
 via 
Waves
.
---

5. Softube Passive-Active Pack
Technically three separate but closely related plugins, the Passive-Active Pack includes a Neumann PEV 930 passive EQ emulation, a Filtek Labo Mk5 active EQ emulation, and a third plugin – shown above – that cleverly combines both. Hard to beat for working on low-end frequencies.
Available for Mac and PC in 32/64-bit VST, VST3, RTAS and AAX Native/AAX DSP formats.
BUY NOW
 via
PluginBoutique
.
---

6. Variety Of Sound BaxterEQ
A great free EQ, certainly one of the best around. Also check out BootEQ MkII from the same designer.
Currently PC/32-bit VST format only. Official site and download here.
---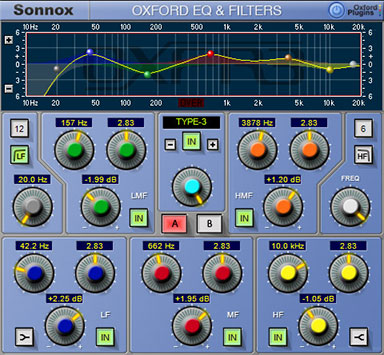 7. Sonnox Oxford EQ / UAD-2 Sonnox EQ
It seems to have been around for  long while, but the fact that many people still swear by it tells you it's certainly worth a look. More recently, Sonnox teamed up with Universal Audio and released a version of the Sonnox EQ for their UAD-2 Accelerator Card.
Available for Mac and PC in VST, AU (Mac only), RTAS, AAX Native and AAX DSP. The UAD version requires the UAD-2 card.
BUY NOW
 via 
PluginBoutique
.
---

8. PSP Audioware ConsoleQ
Taking it's inspiration from the 'British EQ' sound, in particular the AMEK console. Also check out  PSPs Neon HR (with awesome 'fat mode'), and the NobleQ – also on this list.
Available for Mac and PC in 32/64-bit VST, AU (Mac only), RTAS and AAX formats.
BUY NOW
 via 
PluginBoutique
.
---

9. Universal Audio Harrison 32C
Talking of UAD-2, this is another Universal Audio classic emulation. This time it's the distinctive 4-band EQ from the Harrison 4032C desk that gets the plugin treatment. All of the UA emulations are worthy of mention: the Cambridge EQ, Manley Massive Passive and Neve 1073 Classic Console EQ emulations are all fantastic.
Available for Mac and PC users of a UAD-2 DSP Accelerator PCIe card (installed inside a PC), UAD-2 Satellite DSP Accelerator (standalone hardware units), or one of Apollo series of audio interfaces. The current lowest-budget DSP hardware option for gaining access to UA plugins is the Apollo Twin Thunderbolt Audio Interface with Realtime UAD SOLO Processing.
---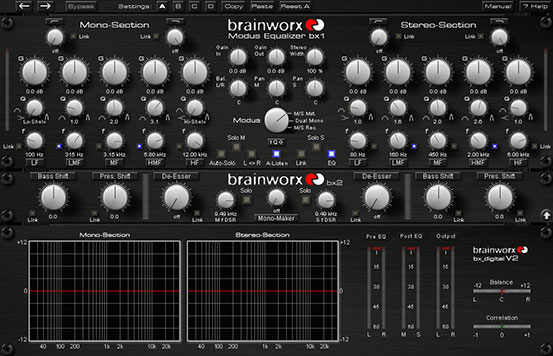 10. Brainworx bx_digital V2
This emulates the analogue Modus EQ bx1, but with additional features only software could provide. A favourite for full mix and mastering EQ applications.
Available for Mac and PC in VST, AU (Mac only), RTAS, TDM and AAX formats. Official site here.
---

11. Sonimus SonEQ
Another top free EQ plugin, SonEQ takes it's inspiration from various vintage units and controls. The large knobs are nice to work with (steady…), and the '3-band EQ plus preamp section'  control each band, plus a fourth knob and combine them in one. SonEQ has 3 bands, bass, middle and treble. Also, SonEQ has a pre-amp section.
Available for Mac (VST and AU) and PC (32-bit VST). Official site and download here.
---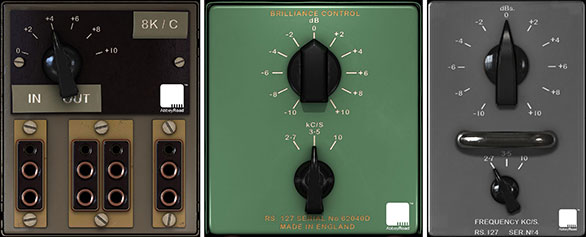 12. Abbey Road Brilliance Pack
Use The Beatles EQ! This is actually three plugins, replicating the custom-designed EQ modules that were first added in the 1960's to the mixing console at Abbey Road Studios – the spiritual/long-time recording home of The Beatles, of course. The pack features two versions of the EMI RS127  (originally a rackmount – grey – and a 'desktop' box version – green), and the RS135 that came slightly later to provide additional control of the 5-10kHz frequency range: part of what's often known as the 'Brilliance' range, for it's ability to add a touch of class and high-end sheen.
Available for Mac and PC in VST, AU, RTAS and TDM formats. Official site here.
---
13. Softube Trident A-Range
Another fantastic example of the way software can give producers all around the world the opportunity to use some pretty rare and exclusive gear. Only thirteen A-Range mixing consoles were ever made, and the plugin is modelled on a particular channel of one of these: channel 15 of the Trident A-Range at Sweet Silence Studio 'B' in Denmark. But like the Abbey Road EQs, despite the scarcity, the hardware that this plugin is based on has been used by some pretty illustrious talent: for example, regular David Bowie producer Tony Visconti apparently used it on Ziggy Stardust.
Available for Mac and PC in pretty much every format ever: VST, VST3, AU, RTAS, AAX Native/DSP, TDM…
BUY NOW
 via
PluginBoutique
.
---
14. DDMF IIEQ / IIEQPro
Up there with the best free plugins of any type, and this one's available for PC and Mac. DDMF IIEQ is a 10-band parametric EQ with surprising character, plus it's very CPU-efficient (individual bands can be toggled on and off as needed just by clicking the centre of the Gain knob) making it an effective 'go-to' EQ on a budget. You can also get alternative skins if you not into the simple 'sky blue' GUI. Of course if you try and love the IIEQ, check out the  IIEQPro version as well.
Available for Mac (32-bit VST) and PC (32/64-bit VST). Official site here.
---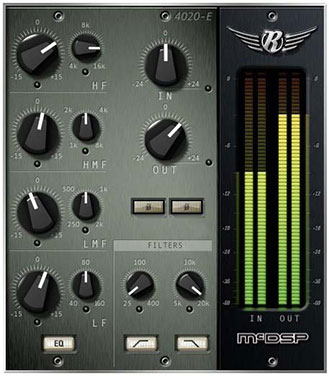 15. McDSP 4020 Retro EQ
An interesting take on 'classic' EQ , in that it eskews emulation of any particular vintage model and decides to go it alone.
McDSP are generally a favourite amongst Pro Tools users, and most of the format options are geared towards HD/DSP/Mac options, but they can be used on PC systems as well. Just don't mention 'VST' apparently… :p
Also certainly worthy of a mention here are the Channel G and Filterbank ('Every EQ Ever Made') plugins from McDSP.
Official site here, which also includes a link to this page with thoughts and extra info from developer Colin McDowell about the the plugin.
---

16. Waves SSL G-Equalizer
Talking of 'G Channels', here's the dedicated EQ that comes as part of Waves' SSL 4000 Collection, which models the various sections and variations of Solid State Logic (SSL)'s 4000 Series mix consoles. Usually the G-Master Buss Compressor is the plugin here that garners most of the attention, but the G-EQ certainly holds it's own too (as do the E- and G-Channel plugins too). For my money it also has one of the most attractive and 'touchable' GUIs around… not that I'm ever swayed by such things, of course…
Available for Mac and PC in TDM and all Native formats.
BUY NOW
 via 
Waves
.
---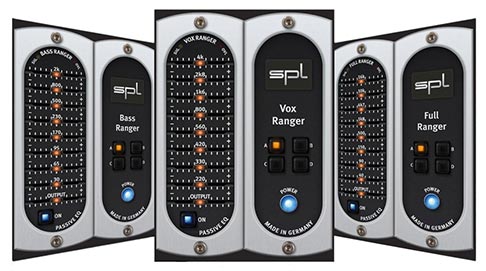 17. Sound Performance Labs SPL / Analogue Code EQ Rangers Vol. 1
What's different about these three plugins is that they're modelled after SPLs own highly-regarded hardware EQs. Although there are three separate plugins, each is very task-specific (a developing trend in plugins which I like): so you get Full, Bass and Vox Rangers.
Available for Mac and PC in Native (VST, AU and RTAS) and TDM formats. Official site here.
---

18. Maag EQ4
Maag rackmount EQs and processors have a great rep for treating vocals, and can be found in many top studios. The EQ4 plugin is based on the hardware version, a single-channel 6-band EQ with the trademark 'Air Band' control for shelf boosting above either 2.5, 5, 10, 20 or 40kHz.
Available for Mac and PC in all formats. Official Maag site here and apparently exclusive plugin purchase here.
---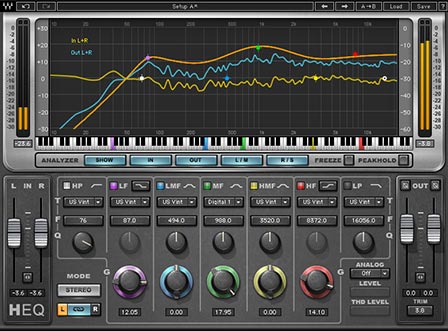 19. Waves H-EQ
Much like the H-Comp that I mentioned here, the H-EQ is an inspired 'hybrid' design that can take on a number of tasks and sounds, and do it with additional and interesting non-run-of-the-mill features and interface. With the keyboard you can select target frequencies in a novel but sometimes highly useful way, and it includes an MS Mode and good-looking spectral analyser.
Available for Mac and PC in VST, AU, RTAS native formats plus the usual TDM.
BUY NOW
 via 
Waves
.
---
---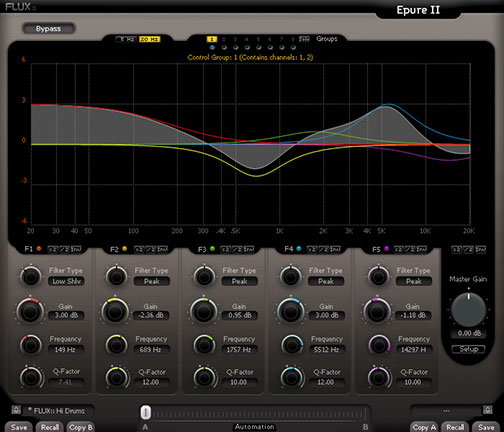 20. Flux:: Epure II
We'll finish this installment with one of the classiest EQs around: look at those curves :p Used in top-flight music, media/post and mastering studios, it has a pristine sound (up to 384kHz sampling rate), some very cool features (the Morphing Slider allows automated transitions between two different presets),  and all wrapped in a very ergonomic and intuitive interface.
Available in Native VST, AU and RTAS formats, but I think it's really optimised for DSP use with the Pyramix pro DAW.
Official site here.
---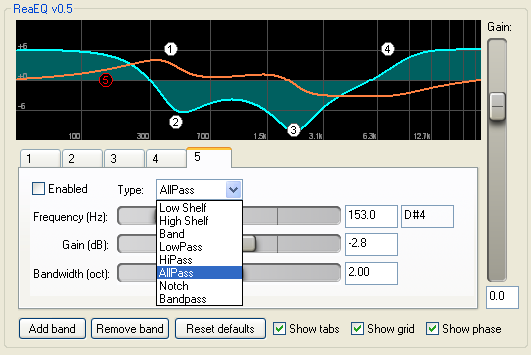 21. Your DAW's EQ e.g. Cockos ReaEQ
We covered this at the top, but it's worth repeating that your first port of call for EQ should always be to check out what comes bundled / integrated with your DAW. Special mention here goes to Cockos' ReaEQ, which comes with their Reaper DAW, but is also available – for free! – for other DAWs (VST format, PC only unfortunately) as part of the ReaPlugs VST FX Suite.
Reaper has gained a huge and dedicated following over the last few years, and many people similarly swear by ReaEQ for all their everyday EQ needs. Official site and download here.
---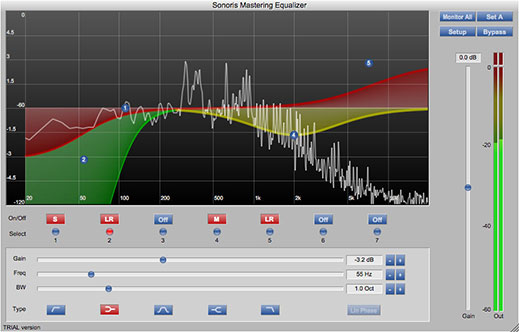 22. Sonoris Mastering Equalizer (SMEQ)
Sonoris currently have two EQs available, this one and their Parallel Equalizer (SPEQ). Both are worthy of a mention: with the SMEQ you're able to set any of the 7 individual bands to process in stereo, Left or Right channels only, the Middle or Side panned elements of the sound. This allows you to isolate certain sounds within a complete mix for further enhancements, which makes it a good choice for full-mix and mastering duties.
Another related strength of the SMEQ is that you can switch any band to linear or minimal phase. You'll often see 'linear phase' listed as a fancy-sounding additional special feature, and it can be useful under the right circumstances: it refers to the equalizers ability to prevent frequency 'smearing' (a typical drawback of certain adjustments with more conventional minimal phase EQ) by delaying the entire signal a little bit, thereby neutralising any phase problem. Of course it's not always a better choice by any means, and the differences we are talking about between linear and minimal phase are subtle enough that in my view you shouldn't sweat it until you're very proficient with 'regular' minimal phase equalizers.
SPEQ processes the signal in parallel with the original, rather than making straight/series adjustments: it's an interesting feature more common to compressors and other dynamic processors, but requires a little extra setting up to get right, so again designed for polishing finished mixes.
Both are available for Mac and PC in VST, AU and RTAS formats. Official site here.
---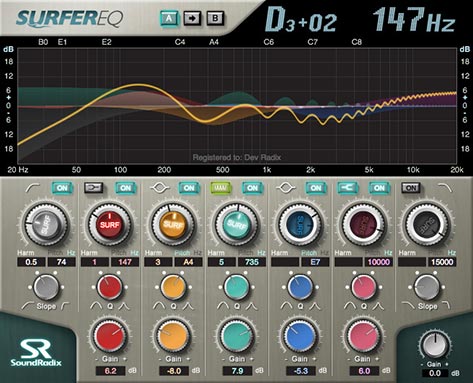 23. SoundRadix SurferEQ
SurferEQ is able to track the pitch of incoming audio and adjust the EQ frequency bands to address the strongest/fundamental pitch (or the harmonics of that pitch) present in the material. Hence the name: it literally 'surfs' the sound waves to find the sweet spots for processing. At first I thought perhaps it sounded a bit gimmicky, but it's actually highly useful and gives you a different sense of your sounds and how you go about processing them, which is always good. The pitch-tracking works best with single instrument / mono sources like vocals and lead guitars, but even with this feature bypassed it's a great-sounding EQ.
Available for Mac and PC in VST, AU and RTAS formats. Official site here.
---

24. URS N4 Series EQ
URS plugins are always reliably high-quality, and their N4 series EQs offer some excellent 'British EQ' Neve-emulating functionality and sound. The most recent plugin in the series is the '6-band' parametric model, that actually has 4 bands plus fixed High- and Low-Pass Filters.
Available for Mac and PC (32-/64-bit) in VST, AU, RTAS and TDM formats. Official site here.
---

25. Native Instruments Enhanced EQ
NI's entry in the character EQ category is a thoroughly modern affair with a minimal interface and simple sculpting controls. It's produced in collaboration with Softube, so you know it still packs some nice classic-inspired character under the hood.
Available for Mac and PC (32-64-bit) in VST, AU, RTAS and AAX formats. Part of the Komplete 10 bundle.
BUY NOW
 via 
Amazon
.
---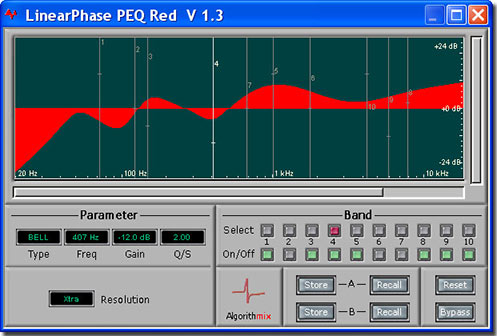 26. Algorithmix PEQ Red, Blue & Orange
Another EQ plugin series that has become something of a standard in many mastering studios, the Algorithmix PEQ Red and Orange are 10-band linear phase parametric EQs, while the Blue features 12 different EQ models (10 serial plus 2 parallel) of classic EQ types. The interface may not look that special, but these EQs are renowned for their very smooth high- and low-end boosts, again ideal for full-mix and mastering processes.
Available for PC only as far as I can tell, in VST and DirectX formats. Official site here.
---

27. SPL Passeq
Another plugin version of their own hardware, SPL's Passeq has an unconventional layout but it doesn't take long to see the sense in it, and it makes you approach your processing in a slightly different way than you might be used to, in a good way.
Available for Mac and PC in VST, AU, RTAS, TDM and Venue formats. Official site here.
---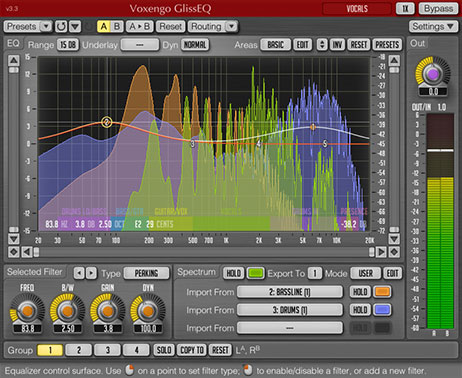 28. Voxengo GlissEQ
GlissEQ is a 'dynamic EQ', meaning it doesn't process audio 'straight' with static Gain adjustments like most EQs, but applies the amount of processing depending on the level of the incoming audio at the selected frequency, much like a compressor. This feature can be used to make gentle and complementary EQ adjustments, or can be creatively misused for some interesting dynamic effects. GlissEQ also includes a good spectrum analyzer that allows frequency spectrum comparisons between different tracks: handy for helping to locate the best range into which you want to slot a new instrument in a busy mix, for example.
Available for Mac and PC (32-/64-bit) in VST and AU formats.
BUY NOW
 via 
PluginBoutique
.
Also see: Voxengo CurveEQ for spline-based EQing, another novel approach that can yield good results.
---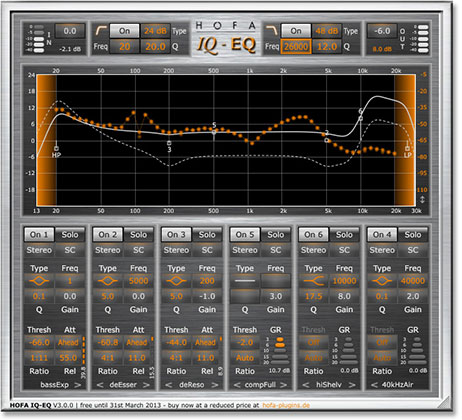 29. HOFA IQ-EQ
Discovered this one while researching the list, and glad I did because it brings together quite a few features with intuitive controls and a nice attention to detail. Like GlissEQ it can also operate dynamically; definitely worth checking out.
Available for Mac and PC (32-/64-bit) VST, VST3, AU, RTAS and AAX formats. Official site here.
---


30. PSP Audioware NobleQ / NobleQex
You knew it was coming! But before we say 'yet another Pultec emulation', know that PSPs effort has quickly risen to the top of the pile, pulling off the task of combining analogue sound and character with the precision of a digital tool like no-one else has yet managed to achieve.
They've also brought out an 'extended' version with an extra 'mid' section for additional sound sculpting, the NobelQex.
Available for Mac and PC in 32/64-bit VST, AU (Mac only), RTAS and AAX formats.
BUY NOW
 via 
Plugin Boutique
.
---
As ever, it would be impossible to cover every possible EQ worth mentioning, but I hope this list has given you some leads and insight into fresh plugins you might not have tried yet.
Don't forget to Comment below with opinions, suggestions and additions: I'm sure it's not the definitive list yet!
You might also want to check out The Ultimate Guide to EQ, part of The Ultimate Guides Pro Collection: