With the first glimpse of new album Random Access Memories in lead single 'Get Lucky' (video below), I thought it was the perfect time to have a quick spin through the highlights of Daft Punks impressive career so far.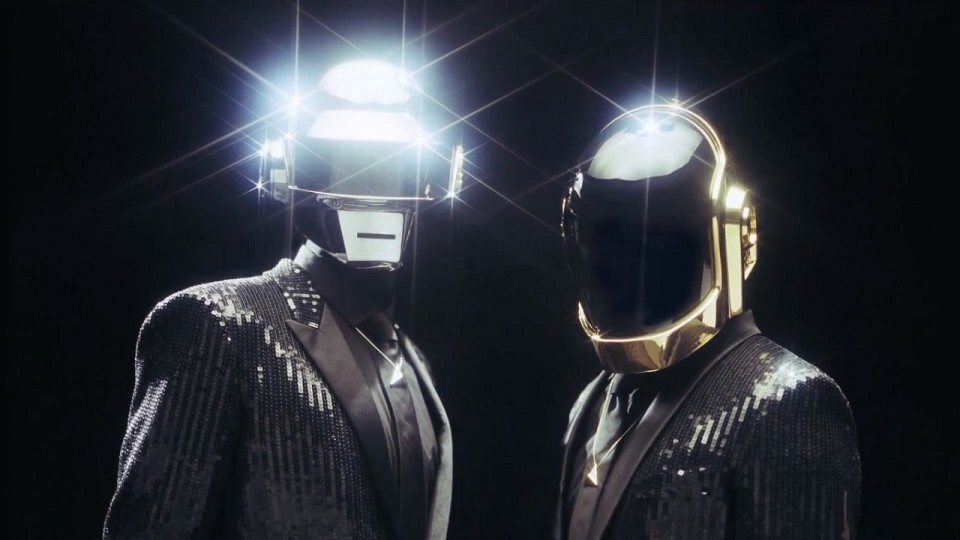 Follow the chronological trail of their best videos below and trace their journey from humble beginnings in the 90's French House scene to massively influential living (well, robotic) EDM legends.
With their recent claim that "electronic dance music is in crisis", it's also fascinating to witness a great example of established artists slipping out from under the weight of their own musical legacy (no Tron pun intended) and the expectations that go along with that, and delivering something that is in line with their desire to push themselves and the wider music scene forward, "searching for a record we hadn't done", while still satisfying their fans.
An impossible task? Well whether you agree or not with Thomas Bangalter and Guy-Manuel de Homem-Christo's assessment of the current state of electronic music, their answer to the conundrum of where to take electronic music next seems to be as brilliantly 'Of course!' simple and inevitable as it is unexpected: they've dropped the emphasis on 'electronic', and decided to focus on simply making the 'music' they wanted to. So they've ditched their reliance on samples and literally reintroduced a human element, "[recreating]what we used to do with machines and samplers, but with people". [We tried] to make robotic voices sound the most human they've ever sounded, in terms of expressivity and emotion."
Origins: Darlin and the 'daft punky thrash'
Meeting at school in 1987 and sharing a taste for The Rolling Stones, Elton John,  MC5, The Stooges and The Beach Boys, Thomas Bangalter and Guy-Manuel de Homem-Christo eventually form a guitar band called Darlin' (an homage to The Beach Boys song). Taking inspiration from an unfavourable Melody Maker magazine review of a Darlin' live show which describes their performance as "a daft punky thrash", bass and guitar players Bangalter and de Homem-Christo begin experimenting with synths and drum machines. It's 1992.
Also influenced by the early 90's British rock and Acid House scenes, Primal Scream's Screamadelica album was also a strong influence for bringing together the many genres the duo loved.
Initial success and debut album, Homework (1997)
Following early singles 'The New Wave' (1994) and 'Da Funk' (1995), Daft Punk sign with Virgin Records in 1996. Here's the funny video for first hit 'Da Funk', featuring 'Charles the dog':
What they've since said about their deal with Virgin sums up their values and desire for artistic integrity that any musician will appreciate:
"Many record companies offered us deals. They came from everywhere, but we decided to wait — partly because we didn't want to lose control of what we had created. We turned down many record companies. We weren't interested in the money, so we turned down labels that were looking for more control than we were willing to give up. In reality, we're more like partners with Virgin."
"We've got much more control than money. You can't get everything. We live in a society where money is what people want, so they can't get the control. We chose. Control is freedom. People say we're control freaks, but control is controlling your destiny without controlling other people. We're not trying to manipulate other people, just controlling what we do ourselves. Controlling what we do is being free. People should stop thinking that an artist that controls what he does is a bad thing. A lot of artists today are just victims, not having control, and they're not free. And that's pathetic. If you start being dependent on money, then money has to reach a point to fit your expenses."
Homework was released in 1997 and is regarded as one of the defining albums of the 90's. Here's highlight track 'Around The World', with a classic video by Michel Gondry:
Second album, Discovery (2001)
Defying the 'difficult second album syndrome' by retaining the playfulness of Homework but with extra production sheen (and many samples taken from the duo's own 'discovery' period of adolescence in the 70's and 80's). 'One More Time' also started the dual production crazes of Auto-tuned vocals and heavy compression, techniques which (for better or worse) are still much used in electronic and pop music…
Apparently Aphex Twin's disturbingly brilliant 'Windowlicker' (note: video NSFW) was also a big reference for Discovery, a track which Daft Punk felt was "neither a purely club track nor a very chilled-out, down-tempo relaxation track".
The 'childhood inspirations' theme was continued into the visuals accompanying the album, with anime hero Leiji Matsumoto making a series of videos for each of the singles. Favourites 'One More Time' and 'Better Faster Stronger' (more on this one later…):
Presumably in an effort to keep things fresh, the duo decide to limit the entire conception and recording of Human After All to just six weeks in the Autumn of 2004. Although displaying the kind of creative flare many high-profile artists could only dream of compressing into such a short time-frame, you can't help agreeing at least a little with reviews of the time that said it felt rushed and understandably a bit under-developed. Despite that, album highlight 'Robot Rock' still features one of the best Daft Punk hooks of their career (even if there's not much else to it), and an awesome video to match:
Having watched that, bear in mind that Justice's debut album Cross (and their leather look), and the dramatic rise of French House label Ed Banger Records (run by Daft Punk manager at the time, Pedro Winter), all of whom took and ran with the Daft Punk sound, were still two years away.
Something else also started happening over the 2006-07 period: first, the duo were immortalized by New Yorkers LCD Soundsystem with their ultimate house-party track 'Daft Punk Is Playing At My House' (the opening track on the LCD Soundsystem album, 2006), and in 2007 Kanye West released his ego-tastic take on 'Better Faster Stronger' (on his Graduation album). Daft Punk are now considered influential elder-statesmen of fun electronic music.
By the way, did you notice the distinctly 80's/VHS/arcade game elements of the 'Robot Rock' video? It lead us nicely on to…
So while everyone else was busy copying their sound from 10 years before, Bangalter and de Homem-Christo were immersed in their collaboration with orchestrator Joseph Trapanese on possibly their dream project, the Tron: Legacy movie soundtrack. (Trapanese also worked with Mike Shinoda of Linkin Park on the decent soundtrack to hit Indonesian martial arts film The Raid: Redemption, also well worth checking out).
They've spoken of drawing inspiration from original Tron composer Wendy Carlos (also a big reference for fellow electronic producer-turned-composer Trent Reznor on The Social Network soundtrack and NIN; get the original Tron soundtrack here), as well as 80's synth soundtrack touchstones like John Carpenter (director/composer of classics The Fog and Escape From New York) and Vangelis (Bladerunner, nuff said).
The combination of the recognizable Daft Punk elements and an 85-piece orchestra is clearly a brilliant proposition and it works as well as you might hope, in a film that is also visually impressive but honestly otherwise pretty forgettable. What's also telling though is that despite the suitably brooding and bombastic orchestral cues, the real highlight was the completely electronic 'Derezzed'.
This seems to me like Daft Punk coming full circle – it's even referred to pretty explicitly in the first verse, with references to the 'Phoenix' and 'raising the bar'. After the master samplers became themselves the samplees with Kanye's 'Stronger', where else was there to go but back to their own roots, the sounds of disco, funk and dream-like cult TV shows of their childhoods in the 70's and 80's, that have been a guiding inspiration throughout their career.
With Random Access Memories, Daft Punk are after a "West Coast vibe", with the album referencing bands like Fleetwood Mac and the Eagles. Listen to that summery vibe with new track 'Get Lucky':
The difference now is that they're not just sampling those sounds, but creating new raw material from the ground up, accessing their influences directly by working with some of the people who made those original sounds of the 70's: people like Parliament Funkadelic/Chic disco-guitar hero Nile Rodgers, and even original electro-disco pioneer Giorgio Moroder himself. It's now a two-way dialogue, with Daft Punk performing with and influencing their own idols in return.
What do you think of 'Get Lucky', and where will they go from here..?
Don't forget to leave a comment below!