With the shortcomings of the more established music platforms becoming more apparent in recent months, especially in regard to how they treat and compensate the creators at the heart of their business, it seems the conditions and timing are right for alternatives to come to the fore.
Enter Orfium, a fast-developing streaming service that has quietly taken on board all the gripes users have voiced about Soundcloud, uncertainty around Beatport and the rest, and have created a new model that promises to reorient music distribution back around artists, giving them a fairer proportion – a full 80% – of streaming royalties and offering a variety of non-exclusive revenue-generating opportunities while allowing them to retain ownership and copyright of their work.
We caught up with Orfium co-Founder and CEO Chris Mohoney to find out what makes Orfium different, and dig into the details of how the service can benefit musicians and producers.
We've also chatted with two of the rising stars on the Orfium charts, Niteppl and Creamtronic, to get an artist perspective on the service – read on below.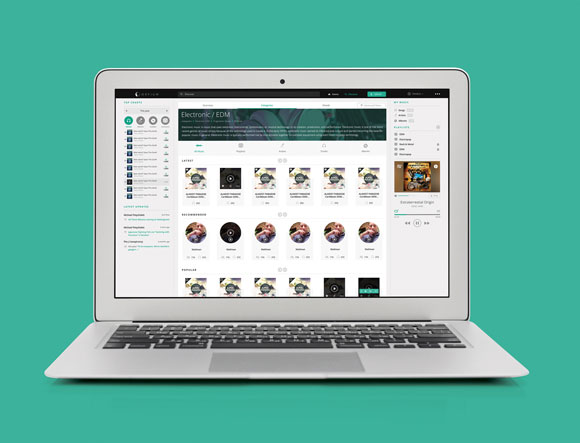 Hi Chris. First off, what is Orfium, and how did you arrive at the idea of creating and developing it?
Orfium is a music social network and online retail music store with an integrated rights management platform. For artists, Orfium is a one-stop solution to promote and monetize their music with by far the most artist-friendly terms of any music platform. Whereas other platforms dominate the relationship viewing artists as another asset in their inventory, like an instrument we view ourselves as an asset at artists' disposal in a relationship where the artist is in control. For fans, Orfium is a place to discover, listen, and share great music and we aim to help strengthen the relationship between artists and their fans. Since there are many other parties in the industry, such as labels and publishers, whose job it is to also serve the artist in some way, we also have special accounts with tools to help them help the artists.
I was previously an administrator of music copyrights in YouTube's Content ID system representing over 6 million music copyrights. I also managed a sync-licensing library with over 400,000 recordings along with a boutique distribution operation. Through this experience I learned the ins and outs of the digital side of the industry including areas where I feel like there is room for significant improvement. Drew and I met attending the University of San Diego together where I completed my bachelor and master in accounting while also learning programming on the side.
Drew [Delis, Co-Founder and President] went on to law school at Pepperdine where he specialized in digital music rights and intellectual property. What began as a series of conversations about what we had been learning and seeing happening in the industry evolved into the idea of Orfium. Seeing that many of the major music platforms seemed to be going down the wrong path ethically and from a utility standpoint, we decided to put ourselves to use by rethinking the entire system and building it from the bottom up.
It's a period of great change and some turmoil in the arena of music distribution and listening services, which also of course provides opportunities to improve on previous services – how wary are you of avoiding the past missteps of other competitor platforms, how much have those factored into the early development of Orfium, and how do you see Orfium growing into the new and evolving musical landscape?
Drew and I spent a lot of time carefully laying out the architecture and foundation of the site and really thinking through how all aspects of the platform should function before we began developing Orfium. We saw how other platforms, specifically SoundCloud, had not properly set up their database architecture and were not capturing the proper metadata of their music, which has severely limited their ability to monetize individual pieces of content on their platform. Because of this SoundCloud suffered mass takedowns since they had no way to properly monetize an individual piece of content and to track and assign the monetization rights to the original rightsholder. Therefore because the original rightsholders had no way to make money from SoundCloud's unofficial remixes they simply resorted to a takedown policy.
By meticulously designing the backend infrastructure of Orfium we made it possible to not only offer hosting (which is free) and retail services, but also licensing, publishing, distribution (coming soon), YouTube Content ID monetization and digital rights management services. All of this is provided strictly on a revenue share (though we are still deciding on the most appropriate model for distribution) so that we never make any money unless the artists do, and the split is 80/20 which is higher than just about every other retail platform and certainly higher than any other licensing platform. We also provide all of these services on a non-exclusive basis and artists can opt-in / out of individual services at any time by simply checking a box, which provides significantly more flexibility and power to the artists.
We know that it has taken every other platform years to mature into an industry-shifting force so we are in it for the long haul but the seed has been planted. When Orfium reaches its potential it is going to empower artists and make them less dependent on the established system, just like solar energy will make people less dependent on the established utility and fossil fuels companies. Being in positions of greater bargaining power, artists will be able to negotiate better deals with 3rd parties and shedding the red tape should result in a happy and maybe even more inspired majority. By automating and simplifying complex industry functions and putting that power at the fingertips of artists, Orfium has a real chance to become the pillars of the most efficient marketplace for music.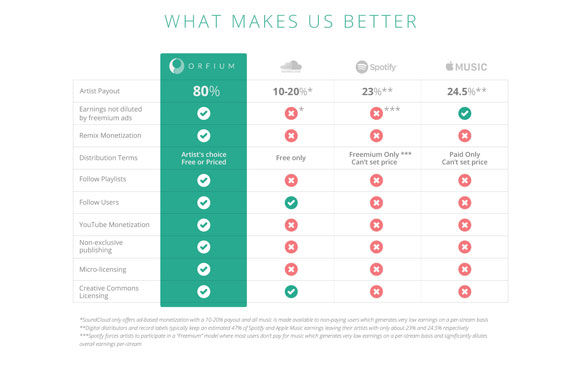 Perhaps the most striking headline feature of Orfium is that musicians will receive 80% of any revenues generated. Can we unpack this a little, and explain how you arrived at this model, and perhaps how other key aspects of Orfium support the ethos of fair compensation for creators and flexible use of multiple potential income streams?
We recognize that it is the artists who add the most value to any music platform since they provide the music, and therefore they should receive the majority of the revenue. We wanted to pass as much revenue as possible to the artists that would still allow us to cover our expenses while continuing to evolve and develop new features. We looked at companies like Amazon and Ebay, who both keep around 15% of revenue, which have been tremendously successful as well as able to scale with that split. We chose an 80/20 split because music is heavier on bandwidth costs and we think that this split is sustainable. The other advantage we have is that we offer many potential income streams beyond retail, so while many pure retail platforms would struggle to operate on a 20% share, we have a lot more opportunities to make that split work sustainably.
The concept of justice sums up our ethos in one word and that drives every decision that we make, and I constantly remind this to everyone that I work alongside of. We are not entitled to exist for any other purpose than solving problems for our users. That means that we must continue to evolve and profit always comes second and shall remain honest, sustainable, and modest, since any excess would contradict our purpose as that would represent savings that we ought to pass onto our users.
As well as individual tracks, many musicians, producers and DJs will be interested to learn more about how Orfium handles mixes, remixes of other artists, song edits etc. Can you expand on this a bit?
When an artist uploads a track to Orfium, they are required to designate whether that track is an original, a remix, or a cover. If it is a remix or cover, we require them to tag the original tracks (if they are on Orfium) or provide a 3rd party link (such as a YouTube link) that we can use to identify the remix so that we can take care of the licensing requirements. Since we don't have duplicate recordings like SoundCloud and YouTube, this process only occurs once for each song. So far almost all of our artists have been very respectful of each other and have been cooperative with tagging their remixes, and also it actually benefits their exposure since we use this data for recommendation algorithms. However as a safety net we are also implementing an audio fingerprinting system to automatically detect and match samples.
We have built the site so we can abstract monetization rights and assign them to other parties similar to YouTube (except we pay out 80% versus 55%). For example, if someone uploads a remix, we can assign the monetization rights for that track to the rights-holder of the original song, and they can decide how to monetize the song, set the distribution policy, and even cut the remixer in on the revenue. Since remix artists simply want to get noticed and their more established counterparts want to get paid, neither of these interests are in conflict therefore our system is a win-win for both. On SoundCloud rights holders tend to issue take down notices because there are no significant means to monetize remixes. We are also currently developing functionality that will support DJ sets/live mixes as well as podcasts, and expect both to be ready very soon.
Another key area of interest for many musicians is how or whether they can use a platform like Orfium as a showcase of their work, not just for other musicians and artists to appreciate but for building a fanbase and raising awareness and opportunities for interaction with labels. What are your plans for facilitating both promotion to listeners and professional interactions between artists and labels?
The role of anyone in the industry who is neither artist nor fan is really to help strengthen the relationship between those two. Therefore we have designed the site to have a consumer friendly interface like they get with Spotify but with more social features. It is like a hybrid of Spotify and SoundCloud from a fan's perspective. After running some tests during our beta version we are also now working on refining various recommendation algorithms that utilize machine learning. These include recommending music and artists to users based on other users who have similar listening habits as well as predicting new music that users would like that has not been played by many yet.
We have also been tracking data on songs uploaded that are released by labels versus independent releases and plan to make these searchable by labels looking for new talent to work with. In addition we also have record label accounts to help labels upload and distribute on behalf of their artists, which are showcased on both the labels' profiles and the artists' profiles, and to help account for and transparently report royalties.
Since the fans won't come until there is a lot of music to listen to, ever since we launched in July we have been primarily focused on spreading awareness among artists. So far we have received around 135,000 uploads by 41,000 artists and as that number grows, not only does it naturally attract more fans via social media and Google searches, but we will also shift our message to spread awareness among potential fans once most artists have heard of us. That said, there is definitely a benefit to joining the platform early since artists who are popular early-on will see their fan-bases grow with Orfium, enjoy less competition in recommendation algorithms, and definitely reach some new fans that haven't discovered them on other platforms. Also our YouTube Content ID monetization service, which monetizes every video on YouTube in which a participating artists' music is used, can generate easy money right away for artists since there is already viewership on YouTube. In fact this service alone should make it worth uploading now. In the long run if artists really want to adopt a better platform then it has to be a community effort to make that happen and that is the biggest reason to join now.
With that in mind, what are your plans for making Orfium a place where music fans want to hang out, explore, find and interact with new artists?
As a music fan, one of the most exciting things is to discover a new artist whose sound gets you moving. Music tastes are so subjective that most of us learn about new artists or songs from someone we know personally or trust musically (such as an influencer or blog). We really want users to feel this personal touch. On Orfium users can follow artists, other users, as well as playlists and they can also repost to their Orfium feed and embed on other websites songs, albums, and playlists. Whenever a user or playlist you follow engages with the platform, you are able to see that in your activity feed. We also made it extremely simple for fans to save and organize music for playback. Also, because of barriers of entry and lack of free music support on services like iTunes / Apple Music and Spotify, there is no real solution for users who want to listen to both underground music as well as major label music in single nicely organized place. Our goal with Orfium is to have the full universe of music in one place, elegantly integrated, where any two songs can be mixed into playlists to create the best listening and discovery experience possible.
As we've already touched on, the musical landscape is shifting dramatically – but as far as is possible, how do you envision Orfium developing over the next 5 years?
Right now Orfium is in a very infant stage. We are still adding a lot of new features, refining existing ones, and adding new music to the library. Currently, our main focus is on bringing artists to Orfium, building out and refining core features, and developing mature monetization services where artists actually get paid. We have a ton of features planned, such as improving discovery, adding groups, radio features, and allowing users to buy concert tickets on the platform. We are absolutely in this for the long haul, and we believe Orfium can become an industry leading platform where anyone who partakes in the music industry can plug-in, contribute, and benefit, and do so not at the expense of any other party. To build the next great music platform means we need to build a complete solution, which is what we promise to do and I think five years is plenty of time for this to mature.
---
Orfium Artist Profiles
To give you some idea of who and what is going on already on Orfium, we caught up with two of the platforms most popular acts, West Coast indie-electronic-pop production duo Niteppl and deep house/techno producer Creamtronic to talk musical backgrounds, studios and production, and their experience so far using the streaming service.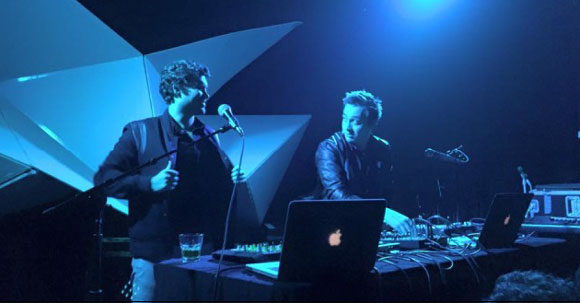 Hi guys, let's start by introducing yourselves, your musical backgrounds and where Niteppl grew from.
Sawyer: I've been a musician since I was 10 when I picked up the Oboe. I played until undergrad college which is where I took an interest in production and singing. From there I went to Academy of Art University for graduate school and at a spring show I met Alton. I sent him some of my solo music projects and he asked me to sing on our song "Shout" and the rest is history!
Alton: Niteppl grows from Sawyer and I's desire to write songs that can touch our listeners on a basic emotional level. The concept of Niteppl is always evolving, and I feel like every album we do, whether it's 2013's all instrumental Cult or 2015's Nu Flesh we want to do something musically different from what we've made before.
What does the Niteppl studio and production process typically look like? What are your favourite production tools, and how do these feed into your sound?
A: That's a good question because honestly I don't know where the songs come from. If I did I feel like we'd be releasing Billboard number one singles every month. We don't use analog synths, we don't have outboard anything, and most days the music just doesn't come. And then some days it does. We're essentially the opposite of gearheads, I barely know how a synthesizer works.
S: Either one of us sits down and writes the foundation of the tune; whether it's a kickin beat or a melodic line. From there we decide if it's something worth continuing work on or if it will be buried in the depths of our hard drives with the rest of the B-sides. Then it will bounce back and forth between the two of us on Logic until it comes to fruition!
Having already developed a solid position within the local San Francisco scene, how did you find your way to Orfium and how does the service integrate into your overall promotional efforts?
S: Since I am in LA a lot of our focus has shifted to licensing and publishing or music for visual media. Orfium provides an incredible platform for this to occur and it being a newer provider for music we were lucky enough to get in on the ground floor which has given us great exposure in both the LA scene and father abroad than SF.
A: We are really excited to see new platforms develop, and Orfium was something we found one day on the internet that seemed to fit our needs; we started chatting with Chris and Drew and were lucky enough to come perform for an event they were organizing down in Los Angeles and we consider them good friends, alongside their excellent new platform.
What are your favourite features of Orfium? Have you had any standout moments or opportunities that have come up through your presence on the platform?
A: We've been very lucky to have the small successes we've had so far, and any platform that can help us deliver our music to the world is a gift. We feel very lucky to have discovered not just Orfium the website but Orfium the concept. The music industry is changing.
Sawyer and I have both been working as freelance artists for basically our entire adult lives and what's cool about Chis and Drews' creation is that they have really throught the redefinition of the music industry as a whole and what it can and will look like within the next three to five years. Everyone knows that things are changing for our industry on a molecular level. With what technology had allowed us I believe that the very concept of what a musical artist will change drastically in our lifetime.
S: The ease of use is amazing but actually it's intuitive conflict management system is very streamlined. Luckily we have not had to utilize it yet but should we have to it will absolutely be invaluable.
Any words of wisdom / tips for musicians new to Orfium on getting up and running and getting the most out of the platform?
A: Just set it up with honesty and integrity. One of the biggest things with any music platform, but especially one where you can generate money quickly like Orfium, is that you don't ask people to listen to unfinished work. Take your time, get the details of the music together, craft a memorable experience, and never upload anything that's half-finished. Everything you put online should be something you've worked on until you physically can't anymore, then it's done.
S: First and foremost spread the word on Orfium, it should at the forefront of music streaming and we really have faith that it will be. The more people that know it is a place where licensing music can happen seamlessly the better!
Lastly, what are your future plans: upcoming releases, tour dates etc.?
A: Right now we're focusing on our third studio album. Our most recent single "Losing Friends Is Easy" came out on October 28th, and we're looking forward to a new string of singles this spring, culminating with the third full album in the early summer. We've been very excited to have this year to work and we are really excited share this new album with the world.
---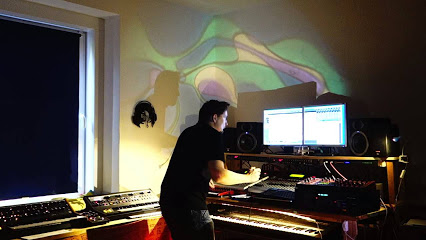 Hi Oliver! Your electronic music background spans the last 20 years, how did you get started and what has the journey been like to arrive at your current signature Creamtronic sound?
In 1996 a friend took me to a psychedelic trance party in the forest and I was fascinated and infected. I bought my first synthesizer and realized that there is so much more I needed to know about producing electronic music. So I began to educate myself about MIDI, software sequencing and everything I should know to make music. An advantage was that I learned to play the keyboard as a child. At first I just made trance music, later house, deep house and dub techno. My Creamtronic sound is a little bit of all these styles, especially deep house and dub techno.
What does the Creamtronic studio and production process typically look like, and how has it developed since the 90s?
Sometimes I begin with programming a beat, sometimes a bass line or a nice pad sound, it depends on my feelings. The other soundscapes I build around that. Sometimes I play something new and find it so good that I throw everything I made before and go further with the new sound :)
DAWs and plugins are developing very fast, things that took a long time in the 90s to create can now be done in a matter of minutes.
What are your favourite production tools, and how do these combine with your personal musical ethos to create your tracks?
I've used Cubase since the 90s. In recent years I sold my digital hardware synths and bought analogue ones and the like.
My actual setup is an Analog Rytm, Roland JX-8p, Oberheim Matrix 6R, Moog Little phatty, Moog Sub 37, Roland Boutique JU-06 and JP-08, Access Virus, and the first synthesizer I bought back in the 90s, a Roland Xp80. I also use different analogue delays. My mixing desk is a Behringer DDx3216. For reverb I use plugins or the reverb inside the mixing desk. When I make a track I use mostly the analogue synths and support them sometimes with software synths.
Any production tips on recording the kinds of tracks that are going over so well on the Orfium charts?
It is a difficult question because much depends on personal taste. But I think a good mix and mastering is the most important thing.
What are your favourite features of Orfium? Have you had any standout moments or opportunities that have come up through your presence on the platform?
My favorite feature is that you can host your music as well as sell it to anyone that likes it. The ease of making playlists is nice too. No standout moments yet except for this interview ;)
Any words of wisdom for musicians new to Orfium on getting up and running and getting the most out of the platform?
Let the people know what you make in your profile description. Be creative in your music and your cover artwork style. Don't produce something just because it is a trend, have fun and make the music you enjoy.
What do you have next in the pipeline?
At the moment I am working on a complete album which represents my musical style.
—
You can find out more about Orfium here.