Whatever sort of music you're making, everyone needs at least one of these amp modelling / guitar effects plugins in their studio toolbox.

One of the great things about guitar-style effects and processors is that they're at least as useful for treating vocals and other instruments as they are for guitars.
Most of the selections here are the top-end versions of each plugin – 'Pro', 'Platinum Edition' etc.  – but most also come in various stripped down / cheaper / 'elements' flavours too, so you can always find a version to fit your budget.
Also bear in mind that, like the real-world gear that they are modelled on, none of these plugins are perfect, they all have their strengths and weaknesses – better high-gain amp sound emulations, or better racks of effects, for example.
Anyway, enjoy – and leave a note at the bottom – especially if I forgot your favourite..? – thanks!
Update note: After a couple of questions about best places/prices to purchase these plugins and other equipment, I've included links for each item to the relevant pages on zZounds.com and Amazon. The zZounds site is one of the longest-serving and most straightforward music gear online stores, especially for guitar-related stuff – you can trust I'll always send you to the right places :)
---
1. IK Multimedia Amplitube MAX
In my opinion, the daddy of guitar amp modelling plugins. Over 300 different pieces of virtual gear, including both amps and effects, and the new Custom Shop feature from IK Multimedia means you can buy individual new amps and effects units from their website, "like visiting a real guitar store". Just without the guy playing Stairway in the corner.
BUY NOW
 via 
zZounds
.
---
2. Waves GTR3
With licensed emulations ofMarshalland Mesa/Boogie equipment, Waves delivers the goods.
BUY NOW
 via 
Waves
.
---
3. Line6 POD Farm 2.5 Platinum
A descendant of the original and much-loved Line 6 hardware POD, the POD Studio bundle features a USB interface plus the POD Farm 2.5 software. A great package.
BUY NOW
 via 
Amazon
.
---
4. NI Guitar Rig 5 Pro
Another excellent all-rounder, and the Control Room feature allows you to point up to eight mics at your virtual cabinets for a lot of "hands-on" tweaking.
BUY NOW
as part of
Native Instruments' Komplete 11 bundle
via 
Amazon
.
---
5. Softube Metal Amp Room
This one is great for delivering the raw but focused aggression required for heavier sounds. It can be quite difficult finding a plugin that delivers a truly authentic, "can't tell the difference from the real thing" sound for this kind of tone, but Softube are onto something here.
BUY NOW
as an individual plugin or as part of the
Softube Amp Room bundle
via 
Plugin Boutique
.
---
6. Peavey Revalver MK III
You kind of know that Peavey, one of the biggest companies in the guitar / music equipment industries, wouldn't spoil things by putting their name to a ropey plugin. So, Revalver – now at MK III – is pretty awesome.
BUY NOW
via 
Amazon
.
---
7. Overloud TH3
Overloud, who also produce the well-regarded Breverb reverb plugin, have developed TH3 into one of the very best guitar software platforms available. The emulations of classic gear and effects, including licensed models from Randall, Brunetti, DVmark and THD, are top-line. Definitely worth checking out.
BUY NOW
 via 
Plugin Boutique
.
---
8. Studio Devil Amp Modeller Pro
This one reminds me of Reason: it looks like a toy, but in the right hands it sounds great!
BUY NOW
 via 
Studio Devil
.
---
9. LePou plugins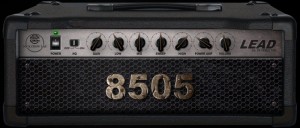 The mysterious LePou (if that is indeed your real name…) is awesome: he makes loads of really good amp emulator plugins, with very cool and classy front panel graphics; and best of all they are available for free from the LePou website.
---
---
10. Avid Eleven
This one [quite literally]goes to eleven… :)
Also check out the edition of Pro Tools that comes with Eleven and a specially designed audio/guitar interface, the Eleven Rack. Tthis is my choice for the ultimate compact guitar setup, as you literally don't need anything else other than your computer to lay down complete, professional tracks.
BUY NOW
via 
Amazon
.
---
If you found this post useful, you'll probably also be interested in some of my other list posts: