Last night I went to see Muse play a show at the O2 Shepherd's Bush Empire in West London, to celebrate the 20th Anniversary of charity War Child.
(The show was live-streamed on Youtube, and it's also now available to stream at your leisure here. You can also find out more about War Child and support the cause here.)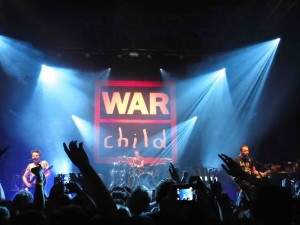 It was a great show, particularly as it's the first time Muse have played somewhere so 'intimate' for more than 10 years: when you get a stadium act, at their peak, but compressed into a club venue, it's pretty cool.
But  it was also awesome to see a band bringing together influences from Rage Against The Machine to Queen, Ennio Morricone, George Michael (!) and Dubstep, and having as much irreverent fun with it as everyone in the audience.
So this got me thinking about which other musicians inspire this kind of fun?
Note this is not a list of the best guitarists ever – These are just some of the best guitarists who happen also to be either great entertainers, or their sheer enthusiasm and attitude shines through so strongly in their playing and stage presence that it's impossible not to raise a smile (or an air guitar) and get swept along for the ride.
Obviously my choices are highly subjective here – feel free to add your own lists or suggestions in the Comments. Enjoy!
10 Most Entertaining Guitar Heroes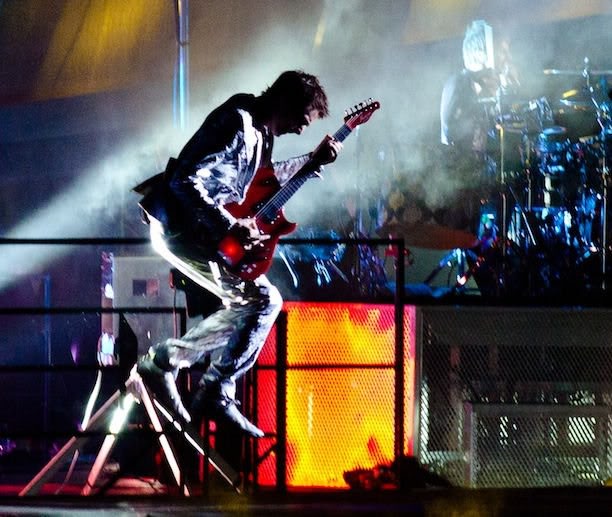 1. Matthew Bellamy
Muse's frontman isn't afraid of taking inspiration from unlikely places, but he also doesn't just ape his references. He has a combination of showmanship, skill and confidence that's reminiscent of 'classic' guitar virtuosos, but with a very 21st Century tongue-in-cheek self-awareness. Not so much talk of grand intergalactic conspiracy theories recently though, which is a bit of a shame. Maybe it's all more channelled into the music now…
2. Jimmy Page
Led Zeppelin lead guitarist, consummate wearer of embroidered jackets, scarfs and slinky-shoulder rock moves. And some of the greatest guitar riffs ever devised.
3. Jimi Hendrix
A lefty, Hendrix played his right-handed guitar strung upside-down and 'the wrong way round', sometimes with his teeth; wrote amazing mind-altering songs and solos with/about girls, freedom and LSD; and experimented, pushing the limits of what was possible both with a guitar and with a recording studio, in ways that are much more fun and listenable than I can make that sound.
4. Robert Trujillo
I wanted to put Metallica in here and so first automatically looked to Kirk Hammett – but while Hammetts riffs and playing are amazing (let's not get into that…), if you see Metallica live these days, we all know who's going to be raising the most cheers and clearly having the time of his life crab-walking across the stage, don't we? And yes, I know he's a bass player, it's my list so I can break the rules :)
5. Tom Morello
Whether with Rage or Audioslave (or his Nightwatchman solo stuff), Tom Morello delivers righteous anger and a real message through the timeless medium of incredible, 'didn't know it could be this powerful and melodic at the same time' guitar riffs. Political activism with a powerful conscience never sounded so good.
6. Joan Jett
It would be remiss of me not to have any women on the list, and for a while I was stumped. Then I remembered Joan Jett: you could think of Joan Jett & The Blackhearts' I Love Rock N Roll or Cherry Bomb from her first band The Runaways as worthy entries here. Then I remembered Courtney Love, Brody Dahl, all of The Breeders, L7, Melissa Auf Der Mer, Sean Yseult of White Zombie, Kim Gordon of Sonic Youth and Kim Deal of Pixies, so we're definitely covered.
7. Yngwie Malmsteen
Although he's regarded as probably the most ridiculously virtuoso player ever, he's mainly on this list because he also looks fantastic, and even his name is fun. Check out what he can do with an acoustic guitar and leather trousers, it's insane.
8. John Lee Hooker
The weird and magical thing about the Blues is how some of the most fun and life-affirming music comes out of pretty heavy circumstances and subject matter. John Lee Hooker narrowly beats B. B. King to this spot, mainly thanks to the song One Bourbon, One Scotch and One Beer. The songs apparently border-line alcoholic main lyric and story of having been dumped aside, I defy you not to start smiling and wanting a drink in the same bar within the first half second of hearing it.
9. Keith Richards
The indestructible Rolling Stones guitarist is one of the original rock & roll anti-heroes. I couldn't find a great performance video that really exemplifies what he's all about without Mick stealing the thunder, which seems to be exactly the way Keef likes it. But I can highly recommend checking out the excellent Stones in Exile documentary, the trailer for which above gives you a taste of the sense that Keith just lived exactly the life he chose.  Or just listen to Jumpin' Jack Flash, No Sympathy For The Devil, Brown Sugar… etc.
10. Angus Young
Long before making Robert Downey Jr. look even cooler in the Iron Man movies and inspiring Jack Black in School of Rock, AC/DC's Angus Young was spinning on the floor in schoolboy shorts, drinking chocolate milk over Jack Daniel's, and knocking out some of the most blistering guitar solos known to man. The video above totally sums it up.
11. Nigel Tufnel
In true Spinal Tap fashion, at Number 11 of our Top 10 list we have Nigel Tufnel (aka Christopher Guest). Hailing from 'Squatney, East London', Tufnel commands a unique (and completely real) influence on every guitarist and metal fan since the early 80s and the release of the documentary This Is Spinal Tap. Check out the video for a classic scene with director Rob Reiner.
So what's the point of all this?
Quite apart from mastering technical proficiency on stage and in the studio, all these artists have gone beyond that to bring their unique character to the fore through their playing. It's all very well producing technically perfect music that hits all the right beats, but if you want to connect with listeners in a big way, injecting some fun and mischief into the process can help an awful lot too.
And if you like this post, you might also like this:
The 10 Best Guitar Amp Plugins In The World.