Everybody has their favourite synths, their go-to's for particular types of sounds or for working in specific genres, and there has never been such a great selection of synth sound sources to choose from, whether you're looking to create the most crisp and cutting-edge lead line or the warmest and most characterful analogue bass groove.
Here, techno producer Jonny Strinati aka Strinner takes us through his selection of some of the best synth plugins available for all types of modern electronic music production, with an emphasis on techno, house and other punchy electronic genres.
Jonny takes each of these synths for a spin (in no particular order, we've just numbered them for easy navigation), with audio examples, highlighting why they're special or distinctive and picking out some key tips and tricks for getting the most out these favourite synths.
---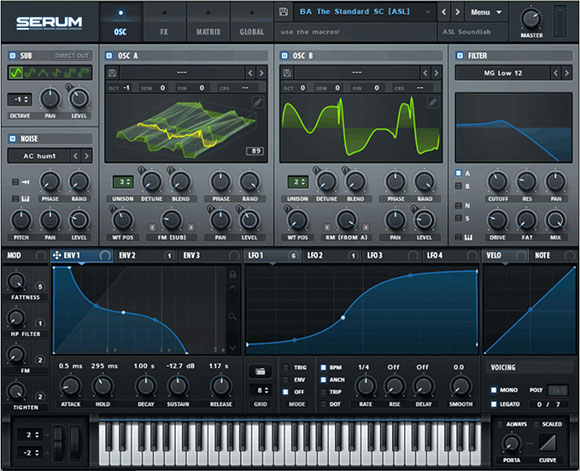 1. Xfer Records Serum
Serum is outstanding, in every way. To me it's the (unofficial) follow up to Massive, it's really simple to use on the face of it and the bundled presets sound great, but if you want to go much deeper and start creating your own custom wavetables by importing audio (or even images!) it's all possible. The FX section goes above and beyond anything I've seen before (multi band compression in a synthesiser?!?), and drawing your own customised LFO shapes is loads of fun. You can also tempo sync your envelope settings by double clicking on the time value and entering your grid settings (eg. 1/2, 1/4, 1/8, etc). I love modulating the WT Pos with an LFO and then drawing some unique shapes for next level wobbles: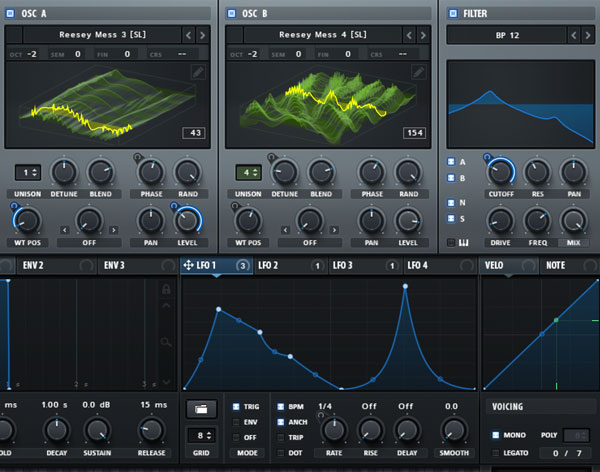 BUY NOW
 via 
Plugin Boutique
Also check out the Serum synth preset packs available at Loopmasters.
---
2. Native Instruments Massive
Massive has been perennially popular with producers of all electronic genre's. It helped give rise to early dub step and went on to become a main stay for future house and bass house producers, not to mention it's ability to create everything from traditional analogue style tones to complex evolving soundscapes.
One of my favourite ways to process basses in Massive is using the Dimension Expander, keeping the Size all the way down and pushing up the Dry/Wet to halfway adds nice depth whilst keeping the bass relatively central. You can hear the Dimension Expander effect on the bass loop in the below audio example: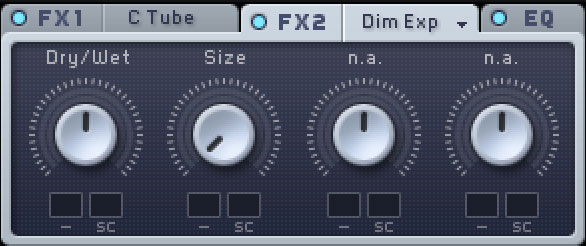 It's actually also great for synthesising drum sounds. Using one of the envelopes to modulate the pitch of a Sine wave to create a synth kick, you can then use the sidechain feature (sc) and use the same envelope to modulate the modulation for a really tight envelope and and punchy transient: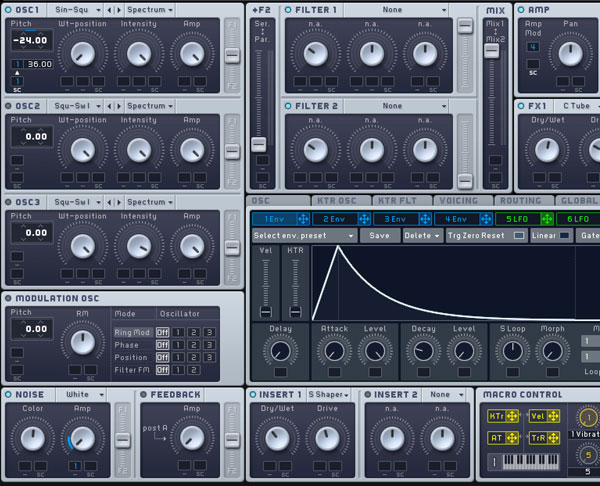 Massive can be bought separately and is also of course included in NI's huge Komplete 11 Ultimate Bundle, together with FM8 (see below) and a whole studios worth of other synths, effects and processors.
BUY NOW
 via 
Amazon
.
Also check out the Massive synth preset packs available at Loopmasters.
---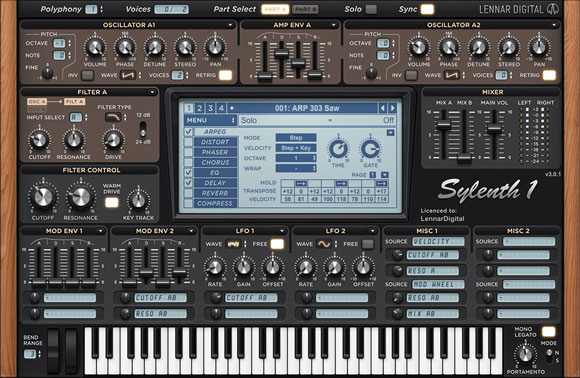 3. LennarDigital Sylenth 1
Despite receiving an update to v3 earlier this year, the synth hasn't changed much since it's inception. And why would it? It sounds incredible, and is straightforward to programme. It can do a 'not too shabby' supersaw via the per Oscillator voice stacking and all the onboard effects sound stunning. I love creating analogue style basses with this synth, using sawtooths and/or pulse waves with a subtle amount of noise for added analogue flavour. It's also great for creating arpeggiator and sequenced sounds via the in-built arp, used in combination with some further modulations you can get some really complex stuff going. In this example I've used the unusual 'Lorenz' LFO wave for a constantly evolving arpeggiator sequence: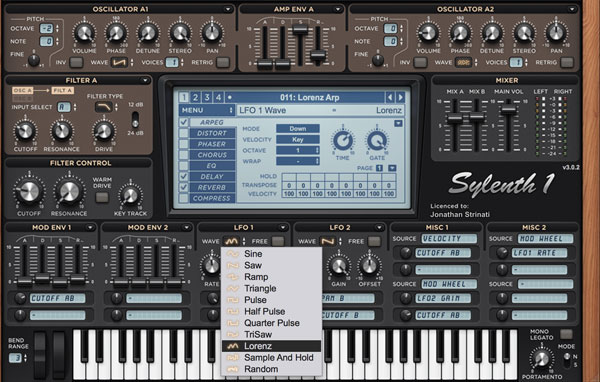 BUY NOW
 via 
LennarDigital
.
Also check out the Sylenth synth preset packs available at Loopmasters.
---
---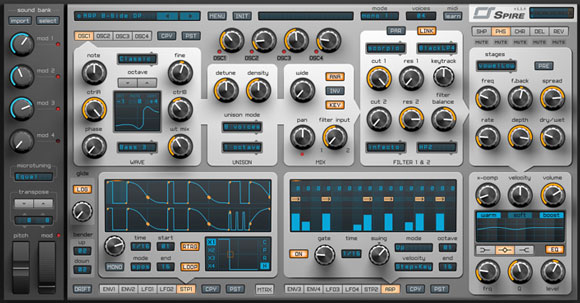 4. Reveal Sound Spire
I've been using Spire more and more of late for sound design, it was popular straight away with the EDM & Wobble massive, but is now gaining more appeal right across the board. One of my favourite features is the per Oscillator Unison section, where you can control detune, density, voices and also stacking options. The stacking options make it a great choice for synth chords, in this example I've used the INIT patch, applied 3 voices and selected the cm7 for a minor chord (increase the number of voices for different stacks):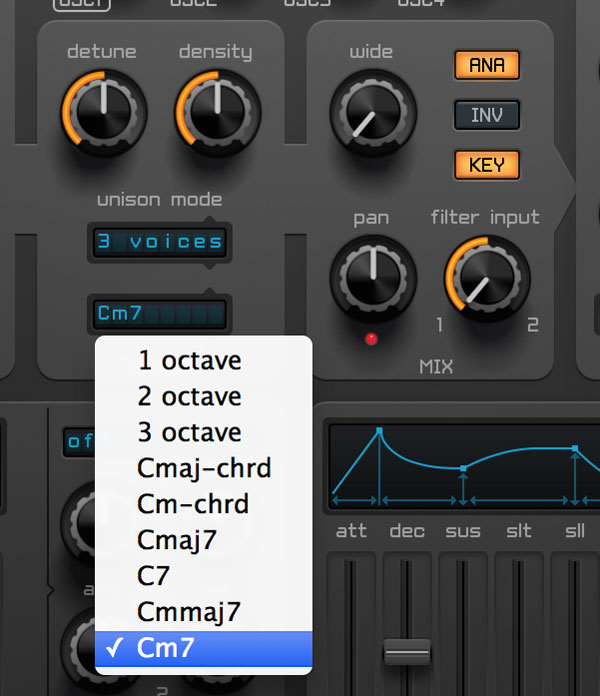 This takes seconds to create and from here the world is your oyster regards modulations and effects with the various envelopes, LFO's and Steppers, the SHP (waveshaper) effect has some pretty nice features too. I love to finish sounds off using the x-comp and EQ section, dial the x-comp up to 25% for adding instant fatness to your synths: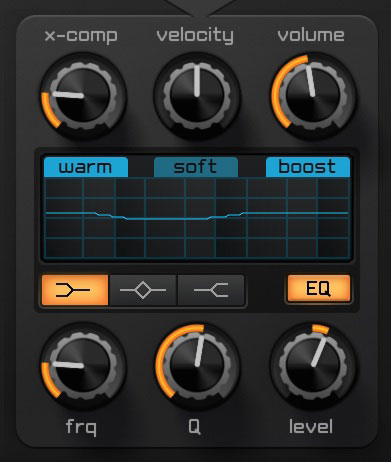 BUY NOW
 via 
Reveal Sound
.
Also check out the Spire synth preset packs available at Loopmasters.
---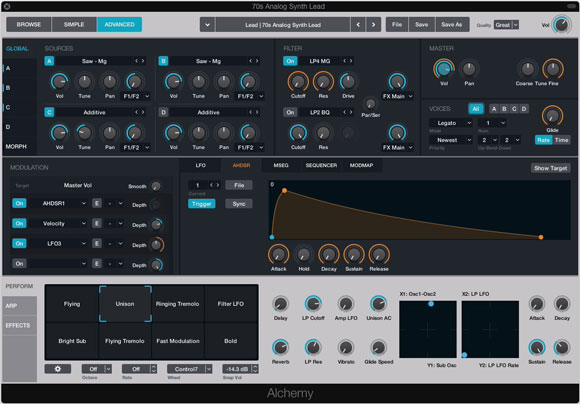 5. Apple Logic Pro X Alchemy
Alchemy now comes bundled with Logic Pro as of v10. It can be slightly overwhelming at first glance, which is why they include a 'Simple' tab if you just want to play around with some of the presets. My mind was blown by how much stuff this synth can do, and the ability to use it as a sampler makes the EXS24 redundant to me (especially as you can even load EXS24 patches directly into Alchemy). I've never seen such an array of LFO shapes and the multi-stage envelope generators (MSEG's) are a sound designers dream. I often use the Arp section for melodic inspiration, you can create sequences up to 128 steps long, and it's s easy to edit stuff like Velocity and Tune, especially when used in combination with the Value Snap options. I also love the idea you can apply a different arpeggiator sequence to each individual oscillator.

BUY NOW
 via the 
Mac App Store
.
Also check out the Spire synth preset packs available at Loopmasters.
---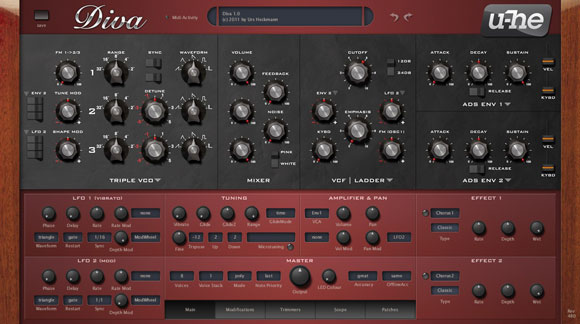 6. u-he Diva
Diva is my go to synth when I want an 'analogue' sound, to me out of all the software synths I've used this (and maybe Monark) is the one that sounds closest to a true analogue synth. You can swap in and out modules (inspired by classics such as the Minimoog & SH-101), and each of the 5 filter set-up's included have a sound of their own. There's some really nice and unique modulation options, plus the Trimmers section offers some advanced voice tuning and stacking options, but for me it's all about the sound with this one. I'll turn to Diva when I want something warm and rich, be it a bass, pad or lead, but I don't to do too much complex programming. And what's more when I create sounds with Diva I rarely need to do much post processing, if any at all.
Here's a bass sound I programmed recently using the Dual VCO oscillator set-up being passed through the Cascade filter:

While Diva is a real CPU hog, there are built-in ways around this. When I'm using multiple instances of this synth I often change the accuracy to Draft but make sure the offline accuracy is set to Best, so when I'm rendering to audio I'm not losing any of that beautiful detail.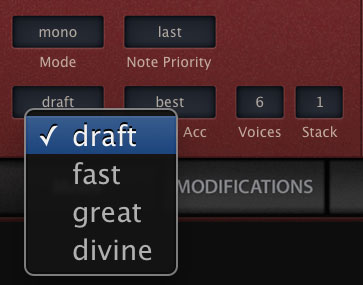 BUY NOW
 via 
Plugin Boutique
.
For more programming tips and resources for Diva, check out our recent interview with sound designer The Unfinished, and use the exclusive code "GTPS2016" until the end of August for a 20% discount on the Diva preset packs and others for Omnisphere 2 and u-he Zebra2, available from The Unfinished store.
---
---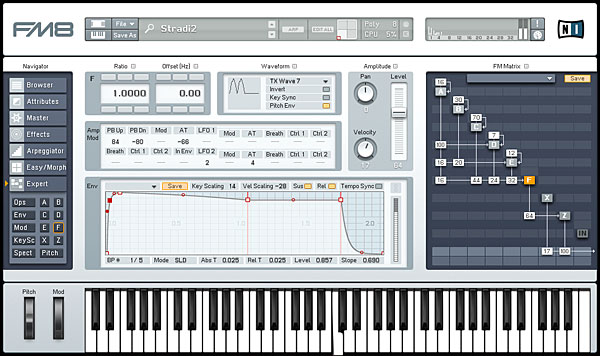 7. Native Instruments FM8
It took me a while to fully get my head around FM8, having never encountered FM synthesis before. It's much more difficult to get a great sound from the INIT patch compared to some of the others on this list, as you have to really work the operators and the FM matrix I find. However, once there it's possible to create some really unique stuff. I like to load up one of the envelope presets, tempo sync it and then start tweaking – provided the operator is modulating or being modulated you're sure to come up with some interesting results. It also perfect for creating classic UK garage bass tones, simply using 2 sine waves as per the below example: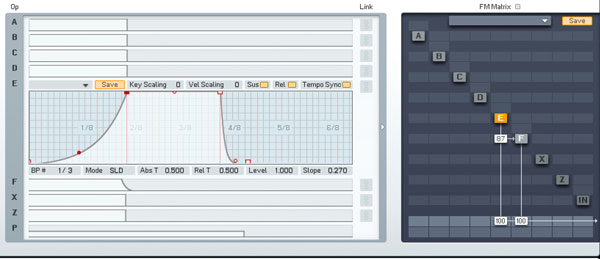 FM8 can be bought separately and is also, like Massive, included in NI's huge Komplete 10 Ultimate Bundle, together with a whole studios worth of other synths, effects and processors.
BUY NOW
 via 
Amazon
.
Also check out the FM8 synth preset packs available at Loopmasters.
---

8. Ableton Live Analog
I'm a recent convert to Ableton, and subsequently Analog. I love this synth, it's really straightforward to programme and is capable of some outstanding sounds. I actually use the default patch for arpeggiator hooks all the time, there's only a small amount of tweaking I need to do – usually involving adding some Glide, Filter envelope tweaking and maybe stacking some extra unison voices. 2 ways I like to fatten up sounds in Analog is to 1) add some Sub level, which adds an extra oscillator an octave below the one that's playing, and 2) experiment with the different Filter Drive settings – there's 6 options, 3 different levels each of 'Sym' and 'Asym'.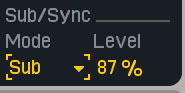 BUY NOW
 via
Amazon
.
---
9. Audiorealism ABL3
D16's Phoscyon used to be my go to for 303 sounds, it sounds great but I never warmed to the Pattern Editor. When ABL3 came out I was instantly hooked, a big feature of this long awaited update was the sound engine and it really doesn't disappoint. I love creating acid sequences with this, the pattern editor is simple and fun to programme (Pattern rather than Classic mode for me) and there's tons of preset patterns to provide some inspiration or a good starting point. It's also one of the few soft synths I've used where you can really crank the Resonance control and it still sounds nice when you filter the cut off. I almost always insert something like D16 Devastor 2 or Fabfilter Saturn after this plug for some added attitude.

BUY NOW
 via
Audiorealism
.
---
---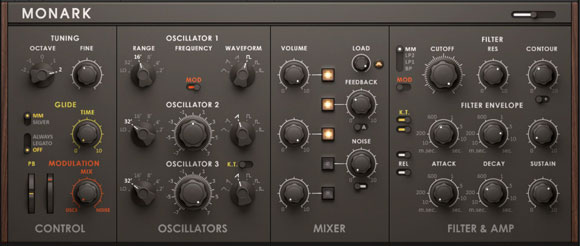 10. Native Instruments Monark
Monark, like Diva, is something I turn to for my own productions when writing house or techno. Some of the presets in the Classics section remind me of sounds from many great techno records, and when you combine those oscillators with the Feedback control and the MM Filter it's difficult to create anything but beautiful analogue tones. I like to tweak some of the under the hood settings and often change the ENV. RETRIG. to ON/OFF, I know this isn't necessarily in keeping the behaviour of the Minimoog it's emulating, but is a nice option to have when you want that envelope to retrigger regardless of the legato playing style.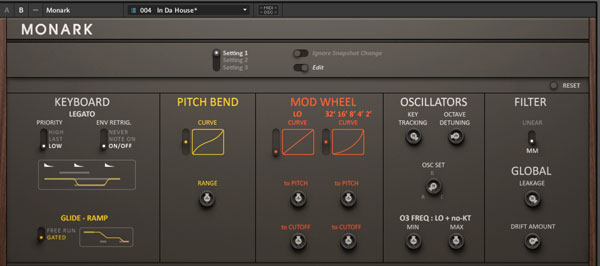 Monark is slightly different from the other plugins featured here in that it loads as an "ensemble" instrument inside NIs Reaktor plugin (or the free Reaktor Player). Both Monark and Reaktor are included in NI's Komplete 10 Ultimate Bundle though, so it's no more complicated than loading a typical plugin patch in practice.
BUY NOW
 via 
Amazon
.
---

Jonny Strinati works as a sound designer for Sample Magic, Attack Magazine and ADSR Sounds and produces under the name Strinner, releasing music on Tulipa Recordings, Selected Records & Natura Viva. soundcloud.com/jonny-strinati
---
That's Jonny's pick of his favourite synths for modern production. What are you using in your tracks, which synths do you always come back to? Leave your comments, suggestions and your own tips and tricks below!
For more tips and techniques for getting the most out of all of your plugins and studio gear in your tracks, don't forget to check out the Ultimate Guides series:

And if you like this post, you might also like these:
50 Pro Tips For Breathing Life Into Your Electronic Music
50 Of The Best Compressor Plugins In The World 2016