Having previously covered many of the best synths for bass and modern electronic music, as well as key processors from compressors to saturators to delays, we thought it was about time we provided an in-depth run-down of the very best drum plugin options available right now.
There's a wide-ranging selection, from classic hardware drum machine emulations to cutting-edge drum synths, samplers, step sequencers and all-in-one grooveboxes – as well as ROMplers and virtual studio acoustic drum kits for creating the most authentic-sounding 'live' drum tracks.
We've included the well-known favourites and industry standard drum plugins alongside some of the more specialised or left-field drum tools out there, so whatever your chosen genre, budget, level of experience or preferred workflow, we've got you covered below.
How Do You Choose Which Are The Best Drum Plugins For You?
There are a lot of options, and while having the ability to select, sculpt and process your drum sounds and programmed rhythms in as much detail as possible within a single interface is often preferable, don't be under the illusion that the more complex, all-singing-and-all-dancing drum plugins are necessarily the better match for your own preferred way of working.
What's interesting about drum machines, software or hardware, is how the apparently minor differences in features and workflow can add up to loving one and not quite connecting with another that on paper is similar but is just not quite "it" for you in practice. Drums are a very personal thing – (almost) everyone needs them, but perhaps nothing quite highlights the differences in how we each personally approach our music and our unique workflow than how we go about constructing our rhythm tracks.
With all the drum plugins listed below, professional-level sound creation and sample reproduction is a given: they will all give you pro results. But consider the more streamlined ones as potentially equally powerful, if they fit perfectly with your DAW and other production tools, or simply inspire you. They might also allow you to get more stuff done without getting distracted!
"What's interesting about drum machines is how the apparently minor differences in features and workflow can add up to loving one and not quite connecting with another."
Find the drum tools that suit you naturally, and you'll likely know it almost immediately. Conversely, if you are finding drum programming a bit of a drag or you're struggling to create the kind of grooves and feel you want, consider re-evaluating your current drum tools and experimenting with the different features and workflows presented by other plugins.
One last thing: remember not to rule out drum plugins that superficially may only seem appropriate for a different style of music than your own. These tools could turn out to be exactly what's needed to take your music in an interesting and innovative direction if used creatively beyond their typical or intended use. Noisia and many modern Drum & Bass prodicers cite Superior Drummer as key to their sound, for example; equally, there is a long history of rock bands, from Krautrock to Nine Inch Nails to Radiohead, employing vintage electronic drum machine sounds to create a pleasing tension between metronomic rhythms and their human playing. So keep an open mind and don't discount any of the options based on arbitrary genre rules – it'll help keep your music fresh and interesting.
With that in mind, whether you're new to producing or want a percussive upgrade, spend a little time with a selection of the plugins featured below that catch your eye, and see which you "click" with (yes, drum puns, I went there)…
---
The 25 Best Drum Plugins – The List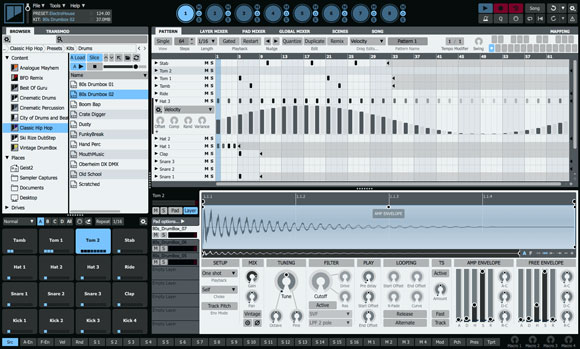 In a nutshell: Beat Production System. For total control over every aspect on your drums, Geist 2 is the closest thing to a dedicated DAW for drums – you can create, sample, sequence and arrange entire tracks without stepping outside the Geist interface.
Key features / differentiators: Eight discreet "engines" mean you can run eight different kits or sliced loops simultaneously; samples are auto-loaded from the browser to selected pads, allowing you to quickly audition new or replacement sounds in the context of your programmed loop or track; the TransMod modulation system allows you to quickly assign custom modulation – LFOs, envelopes – to any parameter of any sound; resampling and deep sample manipulation; loop slicer, which syncs loops of any tempo to your project upon import; assign or record samples directly to pads for MPC-style chopping and beat-making; sequencing of individual layered hits, loops, patterns, scenes and songs all logically controlled with a tier system of mixer controls; individual Track Length markers for each sound make creating complex-sounding polyrhythmic patterns relatively easy; excellent DCAM effects including versions of FXpansion's Bloom delay and Maul distortion plugins, and vintage sampler emulation mode for adding just the right element of crunch; scalable HD interface; Splice Sounds factory library plus 2 free expander packs of your choice.
Particularly good for: Self-contained drum production that gives you all the beat-making options you'll need in a single interface optimised for the task. It's a no-brainer for genres that involve MPC-style layering and loop manipulation, like Hip Hop, Trap and Drum & Bass, and with the quality built-in effects, modulation capabilities and variable loop lengths for each sound it's an obvious choice for all styles of Techno, EDM and more experimental electronic music.
Available for: Mac/PC | 32-64 bit | VST/AU/AAX/standalone
BUY NOW
 via 
Plugin Boutique
.
---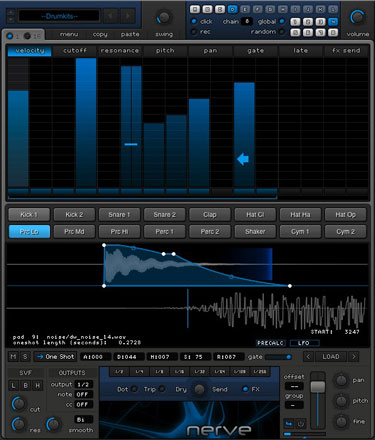 In a nutshell: EDM drum machine with sidechain compression, from the minds of Deadmau5 and Steve Duda (creator of Serum).
Key features / differentiators: Powerful effects section; sequencer; up to eight stereo outputs; intuitive interface, fast to use; simple to apply built-in sidechain compression for pumping electronic beats; REX import capability; includes 2GB artist sample pack.
Particularly good for: Producers of EDM, House, Techno and any related electronic music styles where easily-applied sidechain compression is a great bonus for speeding up and streamlining workflows.
Available for: Mac/PC | 32-64 bit | VST/AU/AAX/standalone
BUY NOW
 via 
Plugin Boutique
.
---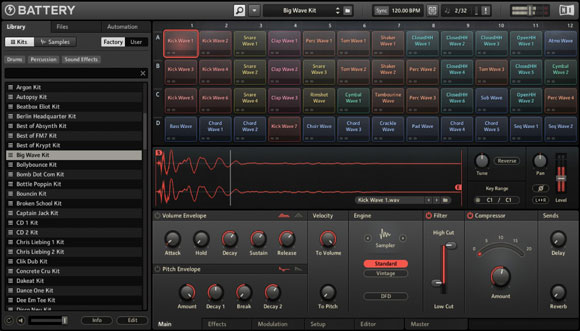 In a nutshell: NI's original workhorse drum sampler, brought very much up to date in version 4.
Key features / differentiators: Colour-coded, cell-based drum pad matrix; comprehensive on-board effects with drag and drop routing; easy access to key parameters such as Tuning, Key Range, Reverse, Pan, Volume, Phase invert and L-R switching in main window; advanced but fast modulation possibilities with twin LFOs and Modulation envelopes for keeping things lively without slowing you down; includes a large and high-quality sample library with 143 kits.
Particularly good for: Electronic and urban music producers; those who want to inject movement and modulation into their beats with a minimum of fuss.
Available for: Mac/PC | 32-64 bit | VST/AU/AAX/standalone
Battery 4 can be bought separately and is also included in NI's comprehensive Komplete 11 Ultimate Bundle.
BUY NOW
 via 
Amazon
.
---
---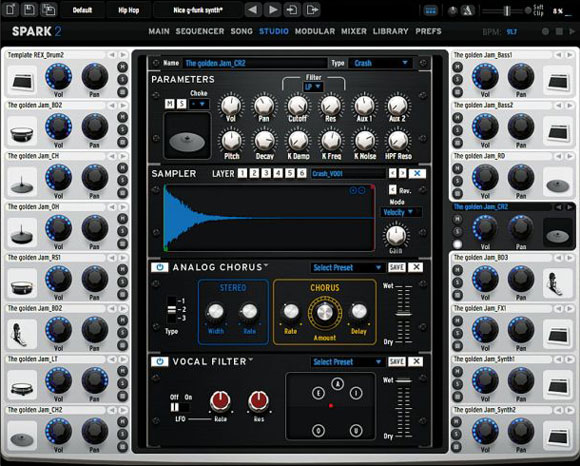 In a nutshell: Complete drum production workstation with an emphasis on classic sounds from the vintage synth masters.
Key features / differentiators: As you would expect from a company most renowned for their top-flight emulations of classic synths, Spark 2 features the most comprehensive all-round collection of classic drum machines of any drum plugin, extending far beyond the staple 808 and 909 banks to include, for example, the more obscure likes of the Roland 'CompuRhythm' CR-78 and Maestro Rhtthm King MRK2, not to mention all of the other staples like the Oberheim DMX, LinnDrum, Simmons SDS-V, E-mu Drumulator and SP-12; a Modular section allows you to get under the hood and tweak sounds to a ridiculous (and ridiculously fun) degree; the system of 64-step sequencer, MPC-style virtual drum pads and easily switchable patterns make for an excellent workflow considering the breadth and depth of options.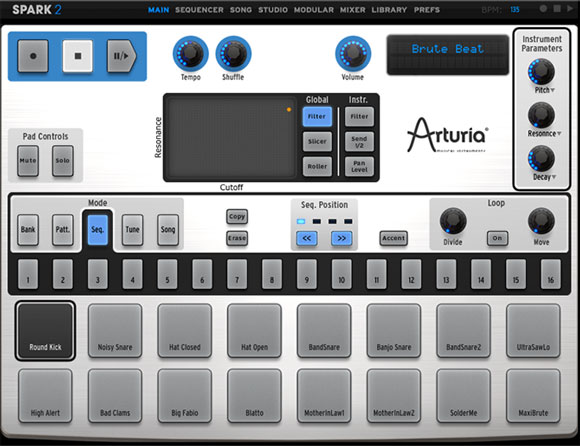 Particularly good for: Everyone these days, as the sonic character of vintage drum sounds continues its resurgence in pretty much every style. Urban and future producers looking to recreate the sounds of early-era hip hop will find endless classic material ripe for reinterpretation, and Spark 2 is a goldmine for techno and house producers looking to spice up their stock 909 rhythms with some more diverse but similarly electronic sounds that recall that nostalgically vintage view of the future.
Available for: Mac/PC | 32-64 bit | VST/AU/AAX/standalone
BUY NOW
 via 
Plugin Boutique
.
---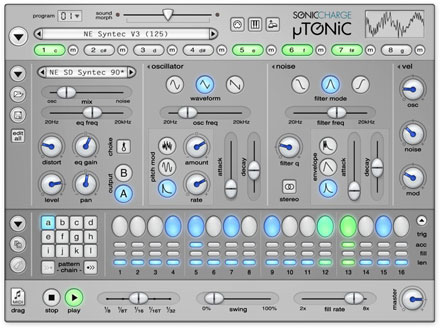 In a nutshell: From Magnus Lidström, designer of Reason's Maelstrom synth, Microtonic is one of the longest-serving and certainly most loved pure drum synth plugins due to its flexibility and unusually powerful sound.
Key features / differentiators: No samples used, Microtonic is a pure drum synthesizer; very low CPU usage; up to 8 channels can be programmed and played from each instance, so creating complete kits is simple and streamlined; morphing, randomization and smart alteration editing features provide interest and subtlety to beats without difficulty.
Particularly good for: IDM, Drum & Bass, Techno and other genres that rely heavily on unusual and synthetic drum sounds that can still pack a real punch.
Available for: Mac/PC | 32-64 bit | VST/AU
BUY NOW
 via 
Plugin Boutique
.
---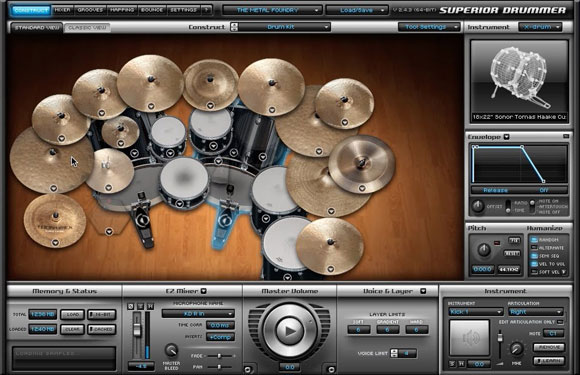 In a nutshell: "Best in class" drum ROMplers. EZdrummer 2 is a streamlined, one-stop drum solution with ready-crafted kits designed specifically for songwriters to use with maximum ease and efficiency, while Superior Drummer 3 is a professional studio-grade drum production environment offering deeper control over every aspect of the sound-shaping and processing of your drum tracks.
Key features / differentiators: EZdrummer distinguishes itself by offering the highest-grade sounds in an otherwise streamlined and intuitive interface; Superior Drummer's 20Gb core library (presented in the proprietary SDX format) was recorded at New York's Avatar with an 18-mic recording setup, and includes a huge number of articulations and hits with a variety of sticks, brushes and mallets; a large number of SDX expansion packs are also available for every style and genre; the X-Drum and microphone Bleed features allow you to choose and position all of the virtual microphones around the on-screen kit to pick up exactly what you want them to, just like real studio mic placement, providing you with massive flexibility in crafting the tone of your selected drum sounds but in a visually clear and intuitive way;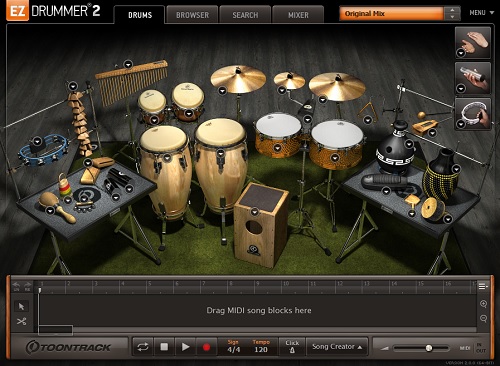 MIDI Nodes allow you to set up detailed, velocity sensitive layers of drum samples for each MIDI note; bounce your programmed MIDI grooves to audio, with separate audio files for each drum channel for further processing and mixing in your DAW if desired – although the plugin itself includes a full virtual mixer, so it's entirely possible to mix internally and output to a single stereo buss to keep things clear and tidy.
Particularly good for: Although at first glance these plugins seem to be set up primarily for emulating live drum kit recordings – and they certainly do this as well as any plugin available – this doesn't mean they are only suitable for traditional rock, metal or pop productions by any means. Due to the depth and power of the sound-sculpting on offer, Superior Drummer is a particular hit with electronic producers looking to add a certain hyperreal quality to their hard-hitting drums. Perhaps most famously its a mainstay in the studio of Drum & Bass scene-leaders Noisia, while Mefjus, Posij and EDM trio The Glitch Mob are also fans.
Available for: Mac/PC | 32-64 bit | VST/AU/AAX/standalone
BUY NOW
 via 
Plugin Boutique
.
---
---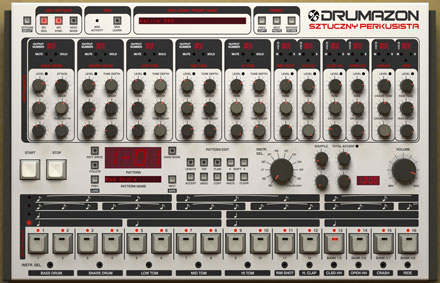 In a nutshell: The very best plugin emulation of the definitive Techno drum machine, the Roland TR-909.
Key features / differentiators: The most authentic reproduction, not just of the drum sounds of the 909 hardware, but also the sequencing behaviour of the hardware, which usually results in quite different drum patterns than what you might end up with if programming drums from scratch; carefully considered additional features like extra Tune and Decay controls make it more flexible than the original machine and a far more convenient choice for modern DAW-based production.
Particularly good for: Despite being released in 1984 as an update to the poorly received (at the time) TR-808 for accompanying gigging solo musicians, the Roland drum machines have ever since been entirely synonymous with Techno, House and Hip Hop. Producers of any of the myriad styles of electronic dance music will benefit from having ready access to sculptable 909 sounds in their arsenal, as opposed to static samples, and for those who are interested in the "classic" sounds of club music, Drumazon is absolutely essential.
Available for: Mac/PC | 32-64 bit | VST/AU/AAX/standalone
BUY NOW
 via 
Plugin Boutique
.
---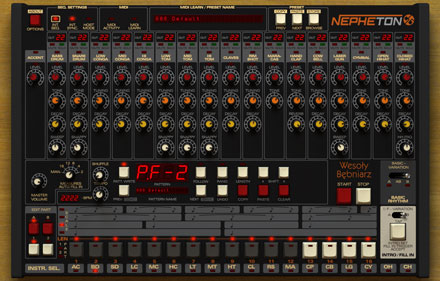 In a nutshell: The definitive booming kick drum. To borrow from the Beastie Boys, nothing sounds quite like an 808.
Key features / differentiators: That famous booming kick drum. The crispy claps and snares, and sizzling hats and cymbals. All with additional sound-shaping controls where the original hardware was found wanting, plus recreations of the sequencing and swing features.
Particularly good for: Hip Hop, Trap and pretty much every urban and electronic dance style. Whether you're looking to recreate the sound of vintage Hip Hop or are aiming to return to the source of those iconic booming Trap bass and kick hits, Nepheton will get you there.
Available for: Mac/PC | 32-64 bit | VST/AU/AAX/standalone
BUY NOW
 via 
Plugin Boutique
.
---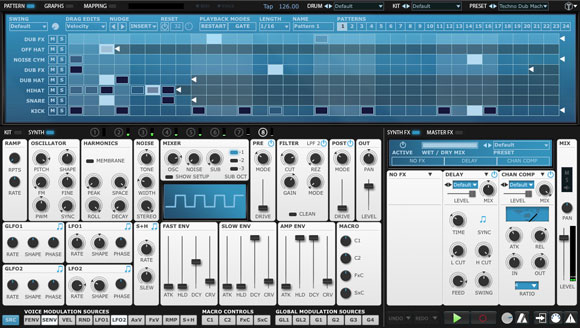 In a nutshell: Whereas Geist 2 is FXpansion's ultimate drum sampler, Tremor represents a similar approach to drum synthesis. Not tied to emulating a specific hardware unit, Tremor in many ways strikes a perfect balance between digital flexibility , usability and sheer analogue-style punch.
Key features / differentiators: Tremor uses the same DCAM (Discrete Component Analogue Modelling) technology showcased in FXpansion's awesome-sounding Synth Squad plugins as the basis for it's similarly intense and analogue-sounding "cloud oscillator" synth engines that generate the same kind of harmonic intervals as real drum heads (that's a more technical way of saying it sounds phat); the TransMod modulation system allows you to very easily assign almost any parameter to modulate any other parameter, resulting in an incredibly flexible but relatively simple system for introducing movement and dynamism into your programmed sounds; Track Length markers for every sequencer lane mean each sound in a sequence can have it's own loop length, allowing you to create complex polyrhythms super-easily.
Particularly good for: The ability to build a wide range of more out-there percussion noises and effects that can still retain a more earthy, analogue type of presence without immediately spinning off into "cheap plugin"-style novelty makes Tremor a sure-fire choice for Techno, with highly-respected underground scene members like Luke Slater and Perc being fans. Producers of Drum & Bass and sound designers working on game and film scores would also find much to love in the flexibility and sheer sound quality.
Available for: Mac/PC | 32-64 bit | VST/AU/AAX/standalone
BUY NOW
 via 
Plugin Boutique
.
---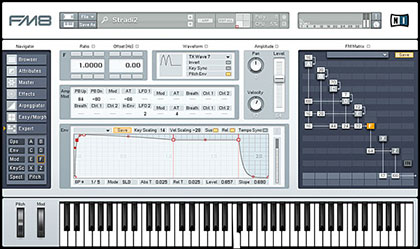 In a nutshell: Despite not being advertised as such, many of your favourite soft synth plugins are more than capable of producing great-sounding drums to rival any dedicated "drum plugin". I would highlight NI's FM8 and u-he Zebra2 as two outstanding choices for programming custom drums from scratch.
Key features / differentiators: FM8 is a good choice partly because it can be easier to get the sort of sharper, hard-attack sounds that make good drums with FM synthesis than it might be with a typical subtractive synth; another reason is the ease with which you can shape fast envelopes and easily add the kinds of distortion and subtle harmonics that suit drum sounds.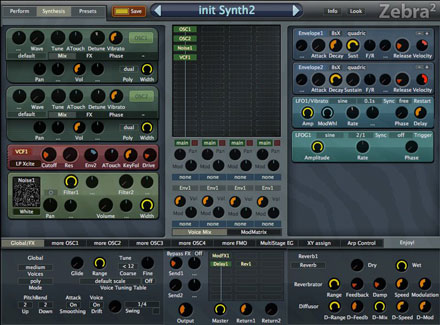 Particularly good for: When you've had your fill of 808 and 909 samples (everyone has their limit) and thirst for drum and percussion sounds with a more unique character that are tailor-made for your own production style, the only choice is to go back to the fundamentals of synthesis and work something up from scratch. It's time well spent, as you'll develop a deeper understanding of your favourite synths in the process and undoubtedly pick up a couple of programming tricks and methods that you can apply to other types of synthesized parts in your productions. Synthesizing simple but impactful drum sounds specifically for layering with other characterful but weaker-sounding drum samples to fill out gaps in their frequency profile can also be useful.
Available for: Mac/PC | 32-64 bit | VST/AU/AAX/standalone
BUY NOW
 via 
Plugin Boutique
.
FM8 can be bought separately and is also included in NI's comprehensive Komplete 11 Ultimate Bundle:
BUY NOW
 via 
Amazon
.
---
---


In a nutshell: Live's built-in drum plugin works with characteristic ease of use and speed.
Key features / differentiators: Simple, no-fuss implementation of drum one-shot samples within your Live projects; massive flexibility to assign and nest almost anything, including other Simpler, VSTi and Simpler modules to any individual cell; the ability via a combination of Drum Racks and Simpler modules to hot-swap drum samples in the context of your track while it's playing back, cycling through a large number of samples very quickly in order to find the best or closest fit, while keeping your ADSR, filter and pitch settings intact (a feature that is surprisingly absent from many top samplers).
Particularly good for: The ease and speed with which you can audition and shape drum samples make it an obvious fit for electronic producers with large sample collections who will appreciate the ability to rapidly sift through a lot of very similar drum sounds to find the combination that best fits their programmed pattern.
Available for: Mac/PC | 32-64 bit | Ableton Live only
Third party Drum Racks for Live: BUY NOW via Plugin Boutique.
---
In a nutshell: Physical modelling drum synth with novel tonal shaping parameters.
Key features / differentiators: Rather than using the more typical subtractive style of synthesis, Drumaxx's physical modelling means you have access to a different set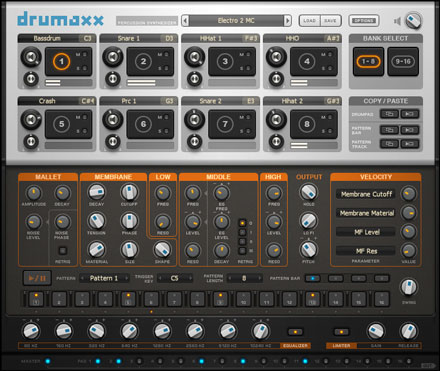 of parameters to the usual oscillators, envelopes and filters – for example you can change the Material and Tension in the Membrane section, and how the drum is "struck" in the Mallet section.
Particularly good for: While Drumaxx sounds don't carry a lot of analogue-style weight and do have an unmistakable synthetic quality, where this plugin excels is in coming up with more toppy, glitchy and noisey perc, snare and hat sounds which would be ideal for Drum & Bass and indeed any IDM-derived style where entire kits of relatively unusual sounds are the order of the day.
Available for: Mac/PC | 32-64 bit | VST/AU/AAX/standalone
BUY NOW
 via 
Plugin Boutique
.
---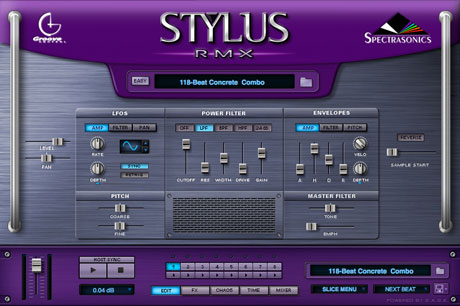 In a nutshell: Pro-grade drum ROMpler from the makers of Omnisphere and Trilian, showing it's age slightly in 2016 but with certain features and workflow concepts that haven't often been bettered since it's release.
Key features / differentiators: 7.4Gb library of loops and hits (including 10,000 single hit samples); drag and drop MIDI either way between the plugin and your DAW, enabling great flexibility for slicing, mangling and further processing your rhythms in pretty much any way you might want; REX2 compatibility allows perfect syncing and slicing of loops with minimal effort; Time Designer intelligently transforms RMX audio drum loops into different time signatures, lets you make instant pattern variations and simplifications to the groove in a musical way, and allows you to "Groove Lock" the feel of one groove to another; the Edit Groups feature allows you to isolate any individual slice or group of slices of audio in your chosen loop and manipulate them completely independently from the rest of the loop.
Particularly good for: While the original Stylus was conceived with hip hop and urban styles in mind, and the Stylus RMX library still has a (now pretty dated) leaning towards urban grooves, like the other Spectrasonics products, Stylus RMX is really a natural fit for film, game and media composers who will appreciate the wide range of well-produced full loops, individual hit and perc loops and single hits, and just as importantly the flexibility of the Slice Menu and Groove Menu MIDI modes to quickly customise and tailor either the provided grooves, original loops or imported samples for their compositions.
Available for: Mac/PC | 32-64 bit | VST/AU/AAX/standalone
BUY NOW
 via 
Amazon
.
---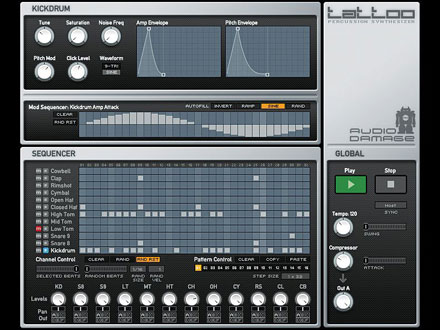 In a nutshell: A basic drum machine with 12 synthesized drum sounds, that nevertheless incorporates some cool features under the simple surface to add variety and easy but effective modulation.
Key features / differentiators: Selected Beats and Random Beats sliders skip or add respectively hits on the sequencing grid at random as their settings are decreased or increased, providing a fun way to program some subtle or extreme variations on your main groove; the Rand button scrambles the pattern for the selected instrument; the Mod Sequencer allows you to create patterns to control virtually any parameter of any drum, and is an elegant way of applying apparent complexity and subtlety to simple sounds and patterns; while you can't import your own drum sounds, you can send MIDI data out of Tattoo, enabling you to use the internal sequencing and modulation functions in conjunction with external sounds.
Particularly good for: Any electronic music maker who appreciates the 'simple but sophisticated' style of other Audio Damage effects plugins will feel at home with Tattoo.
Available for: Mac/PC | 32-64 bit | VST/AU/AAX/standalone
BUY NOW
 via 
Audio Damage
.
---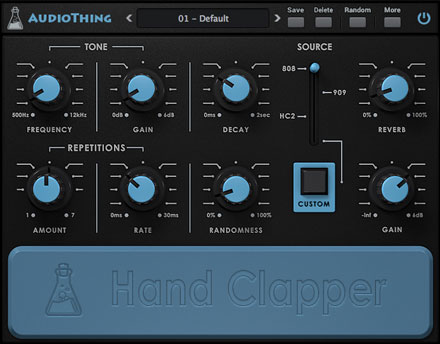 In a nutshell: Excellent two-trick pony based on the Boss HC-2 hand clap synthesizer pedal from 1984.
Key features / differentiators: With so many drum plugins offering the number of features and complexity of virtual mini-DAWs, tools like this one from AudioThings are a little breath of fresh air. If you're a fan of using guitar stomp boxes to process and effect your productions you'll already be on board with the Hand Clapper ethos of a discreet, simple module dedicated to a single task with just enough quirks to make it an interesting alternative to other drum machines. In this case, Hand Clapper allows you to import your own WAV samples (up to 4 secs length), opening up an array of possibilities for processing anything from synth stabs to vocals, FX hits and other percussion sounds. A Random button allows you to quickly try out a range of completely randomised parameters; at its core the plugin features three round-robin sample sets, representing the Roland TR-808, 909 and HC-2 clap sounds; the Repetitions controls allow you to thicken up the clap sound with dense micro-delays.
Particularly good for:  Techno, House, Trap and urban producers will particularly appreciate both the nuances offered in sculpting their perfect clap sound and the ability to creatively abuse the WAV import function for processing all kinds of sounds. Also see AudioThings other vintage drum machine plugins: Hats, Latin Percussion and the Sound Master Memory Rhythm emulation, SR-88.
Available for: Mac/PC | 32-64 bit | VST/AU/AAX/standalone
BUY NOW
 via 
Plugin Boutique
.
---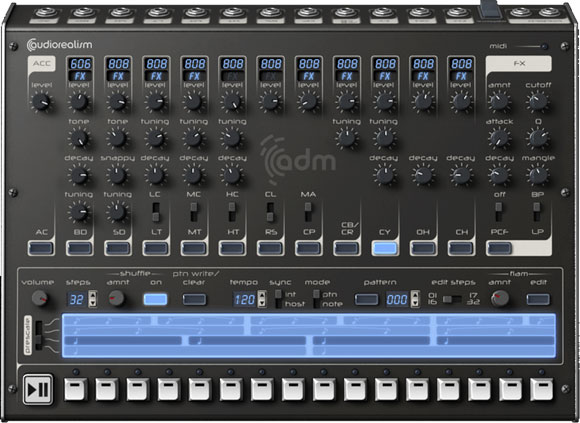 In a nutshell: Amalgamation of the Roland TR-808, 606 and 909 drum machines in a single plugin, with optional sample import.
Key features / differentiators: The 808 and 606 sounds are authentically analogue modelled while the 909 is a combination of samples and synthesis, exactly emulating how the original machines generated their distinctive tones; sample import allows you to bring in your own originally-sourced 909 samples to replace the non-Roland licensed factory sounds (although they sound great), or indeed any other drum sounds for shaping and processing with the built-in parameter controls; the FX section includes filter and 'Mangle' controls for adding welcome grit and depth.
Particularly good for: Non-purist fans of the characterful Roland drum boxes, who will appreciate being able to mix and match the best sounds from each of them in a single interface to easily make custom workhorse x0x kits and patterns.
Available for: Mac/PC | 32-64 bit | VST/AU/AAX/standalone
BUY NOW
 via 
Audiorealism
.
---
---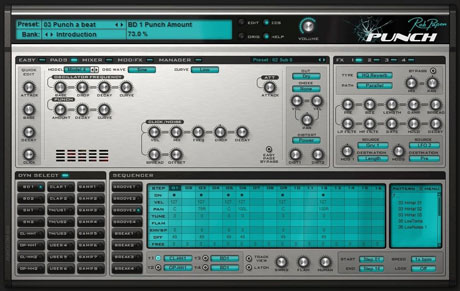 In a nutshell: Flagship drum synth/sampler/sequencer from the respected synth designer.
Key features / differentiators: First-rate drum sounds generated by synth engines optimised for percussion; great effects as you would expect from a respected designer of synths; despite the flexibility of the interface and range of sounds provided, well thought-out presets allow you to get up and running very quickly.
Particularly good for: Trance and EDM producers looking to sculpt modern electronic beats with a high degree of control and nuance. Armin van Buuren is a fan. Also see Punch BD, a variant that expands the kick section from Punch into a ridiculously detailed kick drum plugin.
Available for: Mac/PC | 32-64 bit | VST/AU/AAX/standalone
BUY NOW
 via 
Plugin Boutique
.
---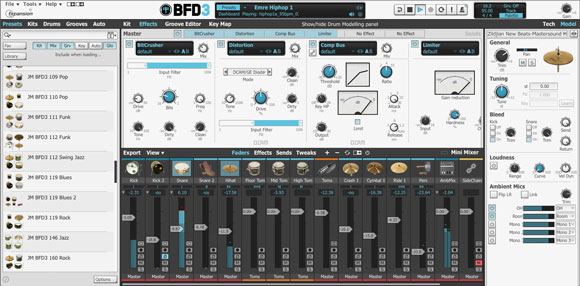 In a nutshell: The original acoustic drum studio-emulating virtual instrument, currently on version 3 with a streamlined interface and redesigned sound engine, is still the very best you can buy.
Key features / differentiators: A complete drum kit production virtual studio, featuring a collection of kits that can be miked and reconfigured with much the same flexibility as the real thing; a full virtual mixing desk controls all of the Direct and Ambient mic channels, with a convenient Mini Mixer for fast adjustments within busy DAW projects; incredibly high-quality and realistic kits (FXpansion uses a proprietary method of lossless compression to squeeze the 160GB library into 50GB on your hard drive); modelling algorithms for tom resonance and cymbal swells ensure extra levels of realism even in areas where sampled kits don't traditionally excel; DCAM envelope shaping ensures a suitably punchy tone as you would expect from the makers of Tremor and Geist; groove presets, Groove Editor and roll Paint tool allow you to incorporate everything from subtle rudiments, drags, flams and jazzy brushwork to technical metal fills and patterns, with many of the groove elements played by top drummers like jazz and rock legend Peter Erskine (who also has his own Virtually Erskine BFD3 expansion pack).
Particularly good for: Realistic acoustic drum tracks for any style, but BFD3 is particularly good at covering the kinds of patterns and details expected in more technical styles like jazz and metal. For producers who like to get into every conceivable variable of their recorded drum sound, the tweakability is second to none. Another obvious application is in reinforcement and replacement of live drum recordings, where BFD3 is the tool of choice for producers like Steve Levine (The Clash, Culture Club).
Available for: Mac/PC | 32-64 bit | VST/AU/AAX/standalone
BUY NOW
 via 
Plugin Boutique
.
---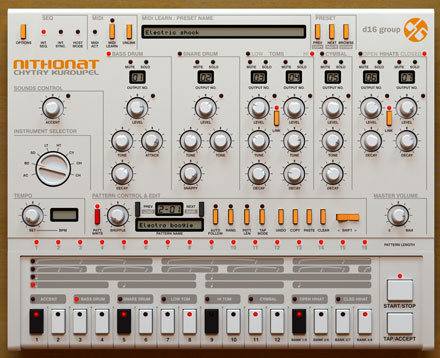 In a nutshell: D16 completes the Roland triple with their emulation of the TR-606 Drumatix, the original drum accompaniment to the Roland TB-303 Bassline.
Key features / differentiators: As with Nepheton (TR-808) and Drumazon (TR-909), Nithonat takes everything that made the original hardware so well loved, and enhances it with additional tone-shaping controls and an improved sequencer. The authenticity of the 7 percussion sounds is beyond reproach, with tinny robotic hats and the best toms of any Roland drum machine.
Particularly good for: Despite lacking the bombastic booming kicks of the 808 or the overt toughness of the 909, the 606 somehow still packs just as much quirky character into its sounds – and in many instances actually responds better than those other drum machines to additional saturation, distortion and further processing as your tastes dictate. The 606 also has the distinct advantage today of not sounding quite so immediately recognisable and cliched as it's more famous brethren. With its softer kick, hi/low tom timbres and great analogue hats suiting less frenetic tempos, it's a first choice for Ambient, Deep and of course Acid House/Techno. The 606 is also an Electro, Hip Hop and modern R&B staple. Prominent uses include Massive Attack on their album Protection, the slinky groove on Nine Inch Nails' Closer, early Plastikman and most Aphex Twin and Autechre records.
Available for: Mac/PC | 32-64 bit | VST/AU/AAX
BUY NOW
 via 
Plugin Boutique
.
---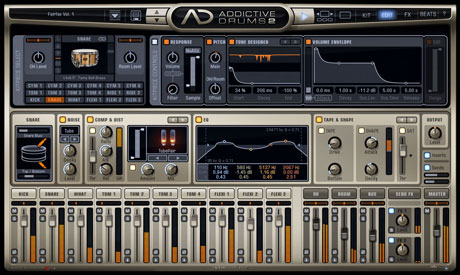 In a nutshell: Pro-grade drum ROMpler that trades off some of the obsessive levels of tweaking of its competitors in favour of a fast and streamlined workflow, while maintaining peak quality sounds for fast composition and songwriting.
Key features / differentiators: The relatively small 3GB core library means fewer tonal options but far faster load times, and indicates how Addictive Drums workflow is designed to move the emphasis away from agonising over elaborate drum piece and mic configurations, and towards processing relatively stock drum kit sounds with high quality effects and dynamics to more quickly sculpt your ideal drum tone; Swedish uber-pop-producer Max Martin was apparently involved in the early stages of design, again hinting towards use as a more generic drum kit tool for mainstream music production than, for example, the esoteric depth of BFD3's jazz and metal leanings.
Particularly good for: Songwriters and pop producers who need easy access to top-flight, realistic drum kit sounds and don't necessarily want to spend too long or have to make too many decisions to get useful results.
Available for: Mac/PC | 32-64 bit | VST/AU/AAX/standalone
BUY NOW via Plugin Boutique.
---
---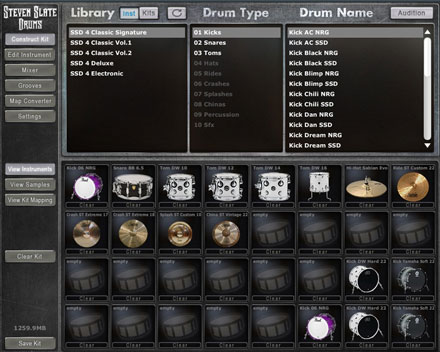 In a nutshell: Great all-round acoustic drum ROMpler from the man who made his name with drum libraries and pro mix processing software tools.
Key features / differentiators: Library contains 100 kits, covering almost every genre from modern rock and pop to metal, vintage rock, R&B, and even some electronic kits created by collaborating producer Griffin Boice (Black-Eyed Peas, Wiz Khalifa, Rob Zombie); having been a Kontakt instrument up to version 3, SSD4.0 sees the plugin get its own interface/player engine, which builds off Slate's Trigger drum replacement plugin; choose from the preset kits, load external samples or mix and match pieces to create your own custom kits; use the internal mixer or assign hits to separate outputs for further DAW processing and mixing; audition and drag'n'drop MIDI grooves directly onto your patterns for quick groove creation; customise MIDI maps for optimising your playing with MIDI controllers or practice kits.
Particularly good for: The drum sounds in SSD4.0 are optimised to sound good out of the box, but will take additional EQ, dynamics processing and saturation etc. to really help you tailor the grooves specifically to your productions. With the broad range of styles covered by the kit library, SSD4.0 strikes the kind of balance that would suit both quick workers who want to nail a decent sound down quickly, and those who appreciate the flexibility to go in, tweak things a little and apply further processing.
Available for: Mac/PC | 32-64 bit | VST/AU/AAX/standalone
BUY NOW
 via 
Plugin Boutique
.
---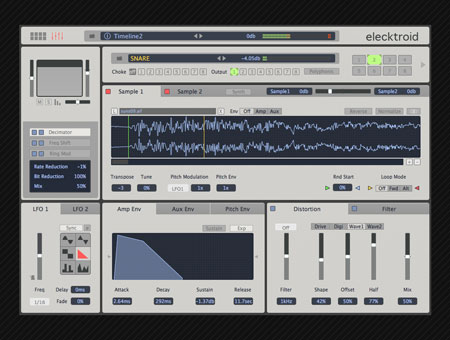 In a nutshell: Full-fledged drum synth/sampler/sequencer from the makers of the popular DrumSpillage.
Key features / differentiators: Rhythm sequencer with independent track length for each of the 8 tracks, allowing simple polyrhythm creation; four different drum synthesis algorithm types allow you to sculpt bass/kick drums, wood drums, snares and hi-hats; alongside the synthesis options, flexible drag & drop means you can bring your own samples into Elecktroids cells for modulation, filtering and envelope and pitch adjustments; easy MIDI controller setup and velocity mapping allow a level of expression suitable for live performance; pads can be set to trigger two samples, two synth hits or a combination of the two.
Particularly good for: A combination drum sound design tool and drum rhythm machine should be of interest to anyone who is looking at or familiar with FXpansions Geist 2 and Tremor – although arguably not as completely full-featured as those offerings, Elecktroid is also about half the price, and less experienced drum programmers or those whose focus is on live playing may feel it's a better fit to begin with. Also check out DrumSpillage 2 and the free MiniSpillage.
Available for: Mac/PC | 32-64 bit | VST/AU/AAX/standalone
BUY NOW
 via 
Plugin Boutique
.
---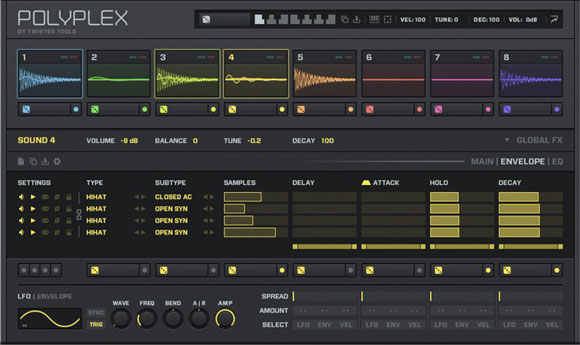 In a nutshell: Highly tweakable beat randomizer for fast, fun and futuristic drum kit construction.
Key features / differentiators: Eight drum slots can be filled at random to construct full kits, using either the included library or importing your own samples; as you decide what's working and what to swap out again with another roll of the dice, you can randomize again at different levels, affecting the entire kit, individual sounds or even just individual parameters of a particular drum hit; typical high-quality effects, modulation and routing options that will be fairly familiar to regular NI users.
Particularly good for: When you're lacking inspiration or simply like the idea of introducing a little controlled chaos into your beatmaking, a tool like Polyplex is almost guaranteed to get you out of a rut or your typical routine. The basic randomness gets you over the hump of selecting sounds to begin with, allowing you to make finer and finer choices as you go without feeling like you're having to agonise over things, so that you can concentrate on gradually moulding unique beat palettes and patterns that you wouldn't have arrived at in any other, more conventional way.
Available for: Mac/PC | 32-64 bit | VST/AU/AAX
Polyplex is available as a ?? extension.
Polyplex is included in NI's comprehensive Komplete 11 Ultimate Bundle.
BUY NOW
 via 
Amazon
.
---
---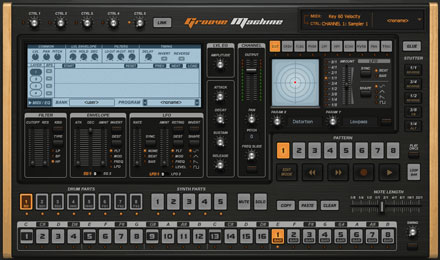 In a nutshell: Drum synth/sampler/sequencer in the style of a hardware all-in-one performance groovebox from the makers of FL Studio.
Key features / differentiators: A feature set optimised for rolling, live rhythm construction and performance includes 8 sampler channels, each with four layers; 5 hybrid subtractive/FM synth channels; 10 DJ-style effects; multiple outputs for further processing and linking into a larger studio or live rig.
Particularly good for: As with the original hardware grooveboxes of the 90s, the fact that one unit is covering so many bases does make it a danger that it won't exactly be a master of any of them. However, while there might be better choices for some of the tasks Groove Machine can do, this would be to miss the point – and the attraction – of the groovebox concept, which is precisely that you can make things quickly, in a fun way, and all within the single interface. Groove machine is also clearly optimised for live performance, with DJ-style effects and a performance-oriented workflow, which is where the groovebox feature set really comes into its own for house, trance, dubstep and other electronic genres.
Available for: Mac/PC | 32-64 bit | VST/AU/AAX/standalone
BUY NOW
 via 
Plugin Boutique
.
---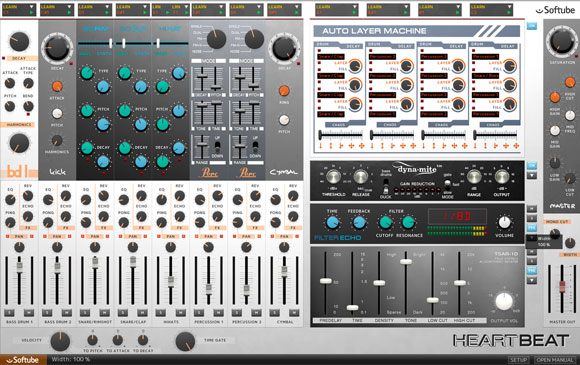 In a nutshell: Swedish master modellers Softube bring a typically smart and characterful, "best-of-analogue"-inspired drum machine with a high-end, boutique feel.
Key features / differentiators: Much like the classic hardware drum machines that inspire it, Heartbeat uses mostly modelled analogue synthesis with a smattering of samples mixed in where appropriate to generate the sounds of its eight engines; 2 Bass Drum channels, Snare/Rimshot, Snare/Clap, HiHats, 2 Percussion channels and a Cymbal; Bass Drum Harmonics control for added character and impact for your kicks; while Heartbeat doesn't include a sequencer, it has Auto Layer Machine, where you can layer up sounds across four channels and trigger them either specifically or with the Chaos sliders to randomize triggering and create fills and event variations; Master section includes versions of Softube's TSAR-1 reverb and Valley People Dyna-mite compressor, as well as Filter Echo and output saturation; the drum and EQ modules can also be used as part of Softube's virtual Modular plugin.
Particularly good for: Drum aficionados and producers who appreciate the particular combination of quirks and quality. Heartbeat does what it does – drums that are not necessarily direct emulations of vintage sounds but capture the analogue essence of what it is that we like about classic sounds, the grit and warmth – with style and at least as well as any other instrument out there. It's the sort of plugin where, if the concept appeals to you, you will really love it, as it has a lot of character both in terms of sounds and interface/controls. If you're a fan of Softube processing and effects plugins, or indeed their new Modular plugin system, you'll most likely be on their wavelength already.
Available for: Mac/PC | 32-64 bit | VST/AU/AAX/standalone
BUY NOW
 via 
Plugin Boutique
.
---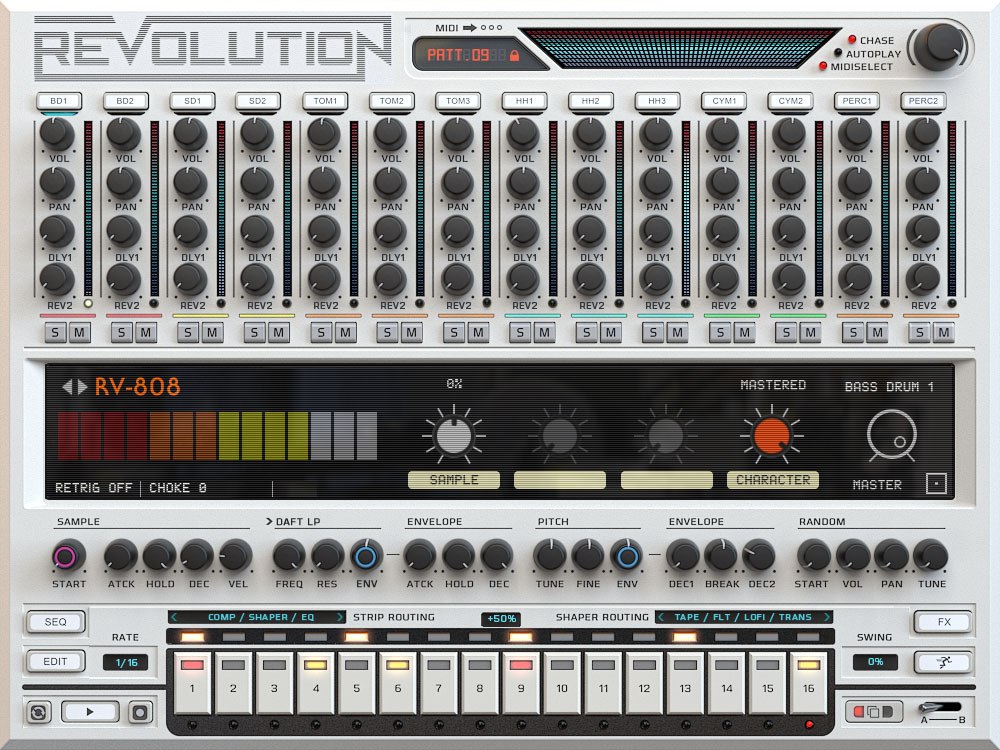 We've written a full in-depth review of Wave Alchemy's latest and best drum sample instrument for Kontakt, check it out here.
BUY NOW
 via 
Plugin Boutique
.
---
---
Where are you sourcing your drums, and which tools do you like for putting together kits and crafting drum tracks in your productions? Do you mostly chop up loops and single hit samples, or prefer to record or synthesize your drums from scratch where possible? Do you lean towards the tried and tested sounded of the classic drum machines, or are you looking for fresh sonic ground to explore? Leave your comments and share your tips below so that others can benefit from your experience!
To make the most of your drum samples and plugins, proper knowledge of the fundamentals of compression, EQ and reverb is crucial. For more tips and techniques for getting the most out of all of your plugins and studio gear and giving your tracks the weight, clarity and focus they need to stand out, don't forget to check out the Ultimate Guides series:

If you found this post useful, you'll probably also be interested in some of our other related posts:
16 Of The Best Saturation Plugins In The World
50 Of The Best Compressor Plugins In The World 2016